An unplanned fit for Nelson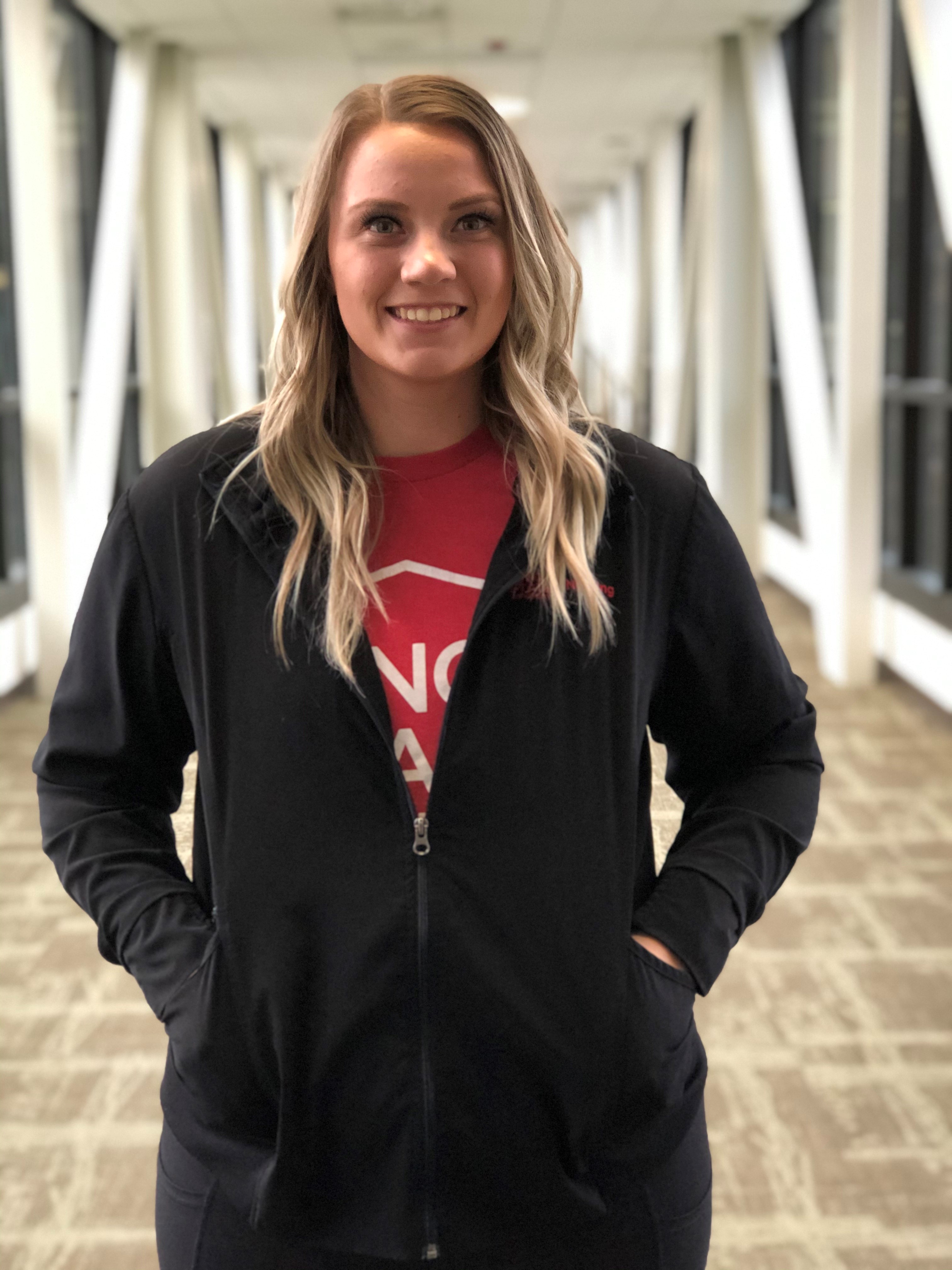 By Emily Schmidt
University Communications Student Assistant
studentpio@minotstateu.edu
An unplanned fit for Nelson
Minot, N.D. - When Cassidy Nelson graduated high school, opening her own hair salon was her goal.  Now she will be graduating from Minot State in December with a nursing degree.
After moving to West Fargo in high school, the Devil's Lake native returned to her hometown to earn her associate degree in marketing while continuing her basketball career at Lake Region State College.
"Basketball was still very important to me, and I was so excited to be able to continue playing," she said. "I was going to attend Lake Region, receive my degree in marketing, and then attend cosmetology school in Fargo to pursue a career as a hairstylist and eventually open up my own salon."
Her plans changed when she completed her first year of college.
"Nursing didn't really hit my radar until my second year of college, and the more I thought about it, the more I saw myself pursuing a career in nursing," she said. "Growing up, my mom was a childcare provider, so I have always loved taking care of kids, especially babies. I have always loved doing hair and nails as well, but after thinking about it, I can always go back to cosmetology school if nursing doesn't work out."
Regardless of the switch, Nelson still graduated from Lake Region on time, packing her schedule with credits and taking summer courses to stay on track.
As the end of her associate degree approached, Nelson had to decide where she wanted to pursue the remainder of her nursing degree, and like before, basketball played a role in making that choice.
"My basketball coach at Lake Region is very good friends with Mark Graupe, who is the head coach currently, and thought that him and Minot State would be a good fit for me," said Nelson. "We came and toured the campus, and I loved the atmosphere here as well as the smaller class sizes compared to other universities. The reputation of the Minot State nursing program made the decision even more clear that this is where I was supposed to be."
Nelson moved from her hometown once more to continue her athletic career and follow her new plan of becoming a nurse at Minot State. After settling into the new setting, she knew her decision had paid off.
"It was difficult in the beginning, but through the basketball team and the MSU Life events, I was able to meet more people and felt very welcomed by everyone," she said. "I am now one semester away from graduating, and I am so happy that I made the decision to come to Minot State."
While transferring universities can have its challenges, Nelson found her place at MSU and is confident others will too.
"Minot State offers more programs than I ever thought, and it is worth taking a look at," she said. "Have an open mind, and there is probably a club or a group that you will fit into here. They have so many different opportunities, the MSU Life events are awesome, and the athletic events are always a fun time. I have learned so much and cannot imagine myself being anywhere else."
About Minot State University
Minot State University is a public university dedicated to excellence in education, scholarship, and community engagement achieved through rigorous academic experiences, active learning environments, commitment to public service, and a vibrant campus life.
---