Senior Spotlight: Isis Cabral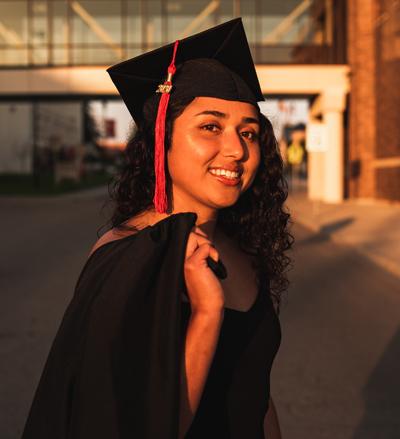 MINOT, N.D. – Isis Cabral's academic career at Minot State can be summed up with one word: perseverance.
The senior from Oxnard, California has changed her major multiple times and had her senior season on the Beavers softball team cut short due to the COVID-19 pandemic.
None of that has been able to cut through her optimism.
"I've changed my major three times over my course of being an undergrad and I wouldn't change those decisions for the world," she said. "It's a beautiful thing to become who you're meant to be and finding where you fit in the world. It's not that I disliked the majors I had prior and I knew I would have been successful in the fields I had chosen. This all boiled down to finding what I loved to do and could see myself thriving in for the years to come."
Cabral will finish with a degree in art with an emphasis in graphic design. She is also the first student to earn a minor in the newly created fitness and wellness specialist degree and will earn a concentration in social media. She isn't done there, however, she plans on enrolling in Minot State's sports management graduate degree this fall and will complete her senior season on the softball team.
"When being recruited for softball in high school, MSU head softball coach at the time, Bill Triplett, spoke to me about all the great resources Minot State had to offer in both academics and athletics," Cabral said. "I didn't need to come on a visit, I just knew Minot State was the place to spend the next chapter of my life.
"I anticipate embarking on graduate school this fall in the sports management degree as well as playing in what will be my senior season. Words cannot describe how grateful I am to pursue graduate school as well as my run-it-back senior season, it will be a year for the books."
Cabral has had to come to terms with the end of the softball season much like the rest of her fellow student-athletes across the country. There was an extra sting this season, however, as she returned to play after missing the 2019 season, looking to return to form from her All-Northern Sun Intercollegiate Conference finish in 2018. Through 16 games in 2020, she was well on her way, batting a team-leading .480 with 24 hits, nine doubles, four home runs, and 18 runs batted in.
Yet it's optimism that reigns for Cabral.
"For softball this past season I gave everything I possibly could when I had workouts, practices, and games," she said. "With this season being cancelled and not knowing whether I'd get to play yet or not, I was not hurt or sad, I was grateful. Everything happens for a reason and with the season to come the softball team will be back and stronger than ever."

Being a student-athlete has helped Cabral in the classroom as well.
"Prioritization, time management, and discipline are the three key factors that have helped me with balancing my time," Cabral said.
She credits Minot State and the Minot community for support and giving her the correct skill set to find success after her academic and athletic careers are over.
"Minot State is my home away from home," Cabral said. "From athletics to academics along with the Minot community, I have found those who support and believe in me. I have gone through some of the biggest adversities for my life thus far during my time at MSU and have also experienced the purest of joys. I wouldn't have been able to go through it all if it wasn't for the beautiful people that I've met over my time being here. I want to thank the Minot State University staff across the board. Each staff member whose path I've crossed has helped me grow as a student, artist, athlete, and individual.
"I have a couple of dream jobs that I could see for my future. Ultimately, I will be looking to utilize my skill set and knowledge to help benefit the paths I may cross. As long as I am carrying out that goal, I know I will thrive in my years to come."
About Minot State University
Minot State University is a public university dedicated to excellence in education, scholarship, and community engagement achieved through rigorous academic experiences, active learning environments, commitment to public service, and a vibrant campus life.
---