Senior Spotlight: Casey Daigle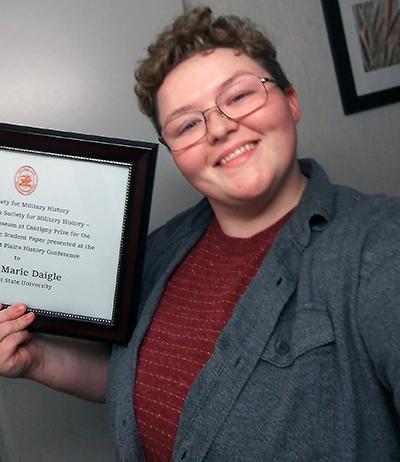 By Emily Schmidt
University Communications Student Assistant
studentpio@minotstateu.edu
MINOT, N.D. – Casey Daigle assembled an eclectic resume during her time at Minot State.
The English and history double-major has had a variety of interests since childhood. While she enjoyed spending time outside in the forest where her family lived, she was curious to learn more.
"My world was relatively small, and books offered me the ability to explore not only our own world, but also entirely new ones," she said. "As I grew older, I developed a love of learning because it felt like putting the pieces together on an ever expanding jigsaw puzzle, like I was beginning to see a bigger picture that continued to grow more complex the more I learned."
Daigle moved to North Dakota in 2011, living in Garrison and Velva before settling in Minot when she was a sophomore in high school. Her puzzle expanded even more once she started at Minot State.
"I chose Minot State because I lived in the area and was familiar with the community, and because I was impressed by the range of opportunities that Minot State offered," she said. "Originally, I began my career at Minot State studying geology. Despite my enduring love of science, I realized that doubts about my ability in English had influenced me not to pursue it."
After switching to English her second year, she still only had a minor in history, but like the other subjects she has studied, she wanted to know more.
"My experiences in the social sciences department quickly made me aware of the depth of my passion for it, and in my fourth year at Minot State, I made it my second major," she said. "I sometimes like to joke that I began with history, just not the history of humans, when I came to Minot State."
On top of majoring in English and history and specializing in writing, Daigle also graduated with concentrations in Spanish and gender and women's studies.  She excelled in these fields, earning Outstanding Senior Awards in English, history, and foreign language as well as the Distinguished Achievement Award in history.

With the variety of subjects under her belt, she plans to continue her writing career in both fiction and nonfiction online until she earns her doctorate in history.
"I have a profound love for both writing and research, and a great variety of fields interest me, so I honestly can't wait to go back to school!" she said. "The difficulty in describing the fields of research I'd like to study is in narrowing them down. There's approaches to creative writing, women authors of the nineteenth century, medieval mysticism, and honestly, as I sit here, I could just keep coming up with potential fields of research that I'd like to pursue."
Like her interests, her list of people to thank is lengthy.
"If I were to individually thank every professor to whom I am grateful, this statement might get out of hand. All of the professors that I listed are ones that supported my work, but also approached it with a critical eye," Daigle said. "My experience at Minot State has not only benefited me academically, but as a person.
"The people I have met and the communities I've participated in will stay with me the rest of my life, even when time or distance eventually separates us."
About Minot State University
Minot State University is a public university dedicated to excellence in education, scholarship, and community engagement achieved through rigorous academic experiences, active learning environments, commitment to public service, and a vibrant campus life.
---