Senior Spotlight: Aylin Ergin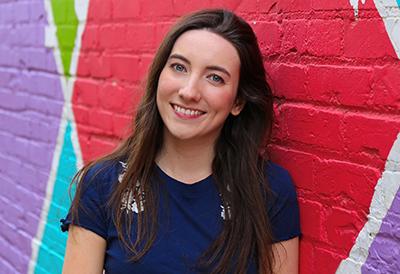 HAMBURG, Germany – When German-born Aylin Ergin was considering where to study in the United States, the many clubs and resources offered at Minot State set it apart.
"I knew I wanted to study in America and so I looked at universities across the States. I came across Minot State University and loved how much they had to offer," she said. "Not just majors but also clubs, like MSU Life, and resources for students like career services and CETL (the Center for Teaching and Learning). It showed me that Minot State University really cares about their students and wants to support them in every way possible.
"As an international student, I felt very welcomed especially by the International Student Office. They were with me from the beginning of my journey, helping me prepare for my move across the globe, as well as introducing me to the new culture."
After some initial cultural shock and some struggles with needing to use English on a constant basis, Ergin settled in at MSU. She double majored in broadcasting and professional communication and public relations, with a concentration in print journalism and a concentration in media services. She worked for MSU Life, the Red & Green student newspaper, KMSU Channel 19, and was a residence hall director.
Ergin believes Minot State's dedicated faculty helped her adjust to studying in the U.S.
"On the academic side, I felt very well taken care of. Professors knew I was an international student struggling a bit with having to speak and write English 24/7 at the beginning, and they supported me by offering individual sessions during office hours," she said. "Through that I very quickly got the hang of it and now speak English fluently without an accent. I adjusted so well within even just the first four months, that I started dreaming and thinking in English."
One professor in particular, Ergin's advisor Christina Paxman, had a big influence in her current academic and career path. Ergin was one of 24 individuals chosen to complete her master's degree in digital communications at the Hamburg University of Applied Science in her home country. She is currently the online editor for FINK.HAMBURG, a magazine that gives students hands-on experience in the journalism field during the master's program.
"While I was getting my two bachelor's degrees, I was inspired by my advisor and professor Dr. Christina Paxman to get a master's degree," Ergin said. "She is phenomenal in her field and made me eager to learn more through her classes. I could take away so much and loved how she supported and pushed me to become better every day.
"Through these experiences, I knew there was so much more for me to learn and research about my field. That's when I knew I wanted to specialize myself more in my field and found my master's program suited perfectly."

She became more involved in events outside of the classroom as well, including her time with MSU Life and as a hall director.
I learned a lot about teamwork in the jobs I had like being an editor of the paper and a Residence Hall Director," she said. "They taught me how to lead a team but still make my teammates feel like I am not putting myself above them."
All of these experiences at the University helped Ergin become more comfortable with her surroundings. That included getting introduced to American football.
"Football is not a big sport in Germany. I remember my first time watching football live during Homecoming. I had no clue what the rules were or what was going on, but the Beaver spirit was so contagious that I cheered and celebrated on the stands!" she said. "Throughout the years of watching the Beavers play, I got the hang of the rules and don't run into the danger of getting kicked off the stands anymore. I am now a huge football fan."
Keeping ties to her roots and helping fellow students understand more about her home country of Germany during Minot State's International Cultural Celebration is one of her lasting memories at Minot State.
"I loved the international cultural celebration," Ergin said. "Minot State has so many international students from all over the world that get to present their home country and culture to others. It was super interesting to see where everyone was from, what their home looks like, and what their traditional food tastes like. It felt like I traveled around the world within an hour!
"I got to represent Germany as well which was so much fun."
About Minot State University
Minot State University is a public university dedicated to excellence in education, scholarship, and community engagement achieved through rigorous academic experiences, active learning environments, commitment to public service, and a vibrant campus life.
---