Minot State University Department of Special Education announces new grant-supported opportunity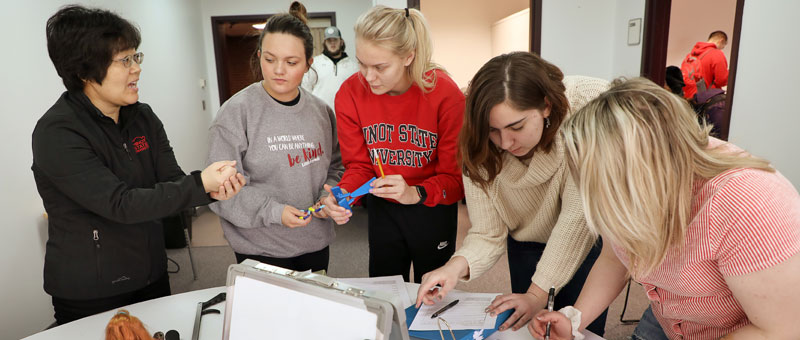 MINOT, N.D. –  The Minot State University Department of Special Education has received a $252,000 grant to pilot a special education paraprofessional to teacher project beginning May 27.
The grant, provided by the North Dakota Department of Public Instruction, will support a cohort of up to nine candidates as they complete their Bachelor of Science in Education with a major in Special Education over a two-year period. Special education teachers are a critical need in North Dakota.
"New challenges need new solutions. There is a shortage of special education teachers nationwide including North Dakota. This grant will allow us to design and implement another pathway for folks to finish their degree and fill this need," Holly Pedersen, special education department chair, said. "The project is a pilot, so it involves testing this model to work out any kinks and then be able to continue offering it as an option. We recognize that a one size fits all approach will leave some good candidates out, so this project will allow experienced paraprofessionals to extend their education and become teachers."
The grant will cover the cost of tuition for all six semesters – Summer 2020, Fall 2020, Spring 2021, Summer 2021, Fall 2021, and Spring 2022 – and courses, seminars, and interactions with Minot State's expert faculty will be offered through accessible distance technology. Candidates will continue to work in their paraprofessional position while completing the program and will receive on the job mentoring and modeling from the administrator and special education teacher.
"Paraprofessionals frequently provide instructional support under the supervision of special education teachers, and they gain knowledge and skills to provide direct services to students on a daily basis. Our paraprofessional-to-teacher pathway allows paraprofessionals to stay in their current position and continue to receive supervision and mentoring from their school special education staff," Wenjing Zheng, special education assistant professor said. "We are designing courses with flexible and multiple modes of instruction, and we employ the cohort model with the purpose of utilizing this group of candidates' previous knowledge and experience to accelerate their learning and enhance networking. We have received some feedback and letters of support from school administrators and special education directors, and they are in favor of supporting some of their paras to further their education and potentially grow their own staff."
Pedersen and Zheng will serve as co-pilots for the program, while Jenna Arnold, Minot State special education part-time faculty, will act as project coordinator.
Ideal candidates for the paraprofessional to teacher pathway need to be currently working as a paraprofessional with one year of experience, have an associate degree or some college completed, and have the support of their school administrators and special education teacher. For more information, contact Pedersen at holly.pedersen@MinotStateU.edu.
About Minot State University
Minot State University is a public university dedicated to excellence in education, scholarship, and community engagement achieved through rigorous academic experiences, active learning environments, commitment to public service, and a vibrant campus life.
---