MSU Life, Office of International Programs continue to support students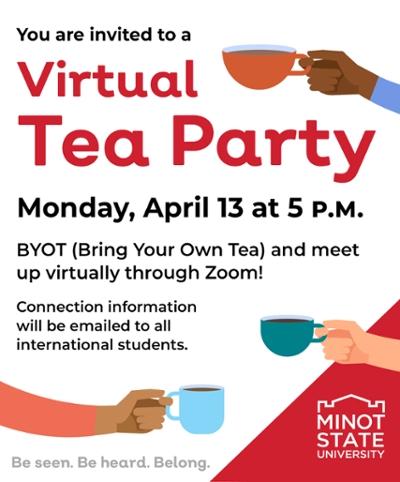 MINOT, N.D. – While the COVID-19 pandemic has forced remote instruction at Minot State for the remainder of the Spring 2020 semester, departments like MSU Life and the Office of International Programs continue to support students.
MSU Life, normally a face-to-face department enriching the campus experience though various events, has shifted its focus to online, interactive offerings for the remainder of the semester.
The Office of International Programs has balanced online events, while still serving 25 students who currently reside on campus in residence life.
Both departments have taken a new approach to the same mantra.
"MSU Life exists to enrich the campus experience by offering vibrant and inclusive social programs. Our mission hasn't changed, just our delivery," said Aaron Hughes, student activities coordinator. "Like many of our students, faculty, and staff, we too went through a phase of disbelief, sadness, and confusion. The MSU Life team grieved as we said goodbye to our original calendar of events for the semester but leaned in to cultivate creative solutions to our new parameters.
"The MSU Life team decided that the show must go on. So online we went!"
Hughes experimented with virtual bingo on March 31 and had over 150 students from across the country and world play the game. The feedback from the first event solidified Hughes and her team's mission.
"People crave human connection," she said. "Research shows that positive social connection is linked to increased happiness, better health, and longevity. We are doing what we can to maintain the social connection that helps us all thrive."
MSU Life offered two rounds of trivia the first week of April and will feature at least two events each week the remainder of the semester including Pinterest night, the always-popular 500 ways to win, a talent show, scavenger hunt, an escape room, and free lunches. A complete schedule for the remainder of the semester can be found HERE.
The Office of International Programs started its schedule of events with a Tik Tok dance challenge on Monday, April 6 that runs to Monday, April 13. The event is sponsored by the Minot State International Student Organization and the video app will allow students to record their best video for submission.
"These past few weeks have been difficult for everyone, and we are planning some really great "Spirit Lifters" to help our international students get through the next couple of months," said Libby Claerbout, director of international programs.
International Programs also partnered with MSU Counseling Services for "Tips on Thriving During COVID-19" utilizing Zoom meetings. There will be weekly virtual tea parties with bring-your-own-tea — of course, show and share on social media, and international trivia.
"The team spent the first week of the new semester personally reaching out to hundreds of students. It was apparent that everyone needed something to look forward to — a sliver of normalcy," Hughes added.
About Minot State University
Minot State University is a public university dedicated to excellence in education, scholarship, and community engagement achieved through rigorous academic experiences, active learning environments, commitment to public service, and a vibrant campus life.
---