New exercise science and rehabilitation major at Minot State University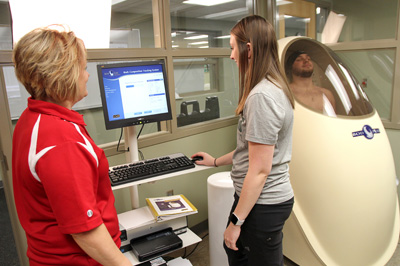 MINOT, N.D. – The Minot State University Teacher Education and Kinesiology Department is offering a new major in exercise science and rehabilitation. The Bachelor of Science degree offers seven different tracks for students, ensuring they can choose a route best tailored to their future career path.

While the options are designed for different careers, the choices all include a factor unique to MSU's program: rehabilitation throughout the lifespan.

"This major will give students more hands-on experiences in rehabilitation both in the classroom and through their clinicals and practicums," Heather Golly, associate professor and director of exercise science and rehabilitation, said.

The seven major option tracks include Option A: Professional Certification Route, Option B: Professional Route Pre-Athletic Training, Option C: Professional Route Pre-Physical Therapy, Option D: Pre-Occupational Therapy, Option E: Pre-Physician Assistant, Option F: Pre-Chiropractic, and Option G: Pre-Med.

Option A: Professional Certification is designed for students wishing to enter the workforce immediately following their undergraduate degree and will prepare them for National Strength and Conditioning Associating exams, opening up opportunities to become strength and conditioning specialists, certified personal trainers, and for other careers in cardiac rehab and exercise physiology.

"I think one of our big components for Option A is the strength and conditioning," said Golly. "We get a lot of athletes that want to be strength and conditioning coaches and this option will prepare them for that career."

With national changes in requirements for athletic trainers, individuals interested in this career field who begin their studies in Fall 2022 or later will be required to hold a master's degree. Option B: Professional Route Pre-Athletic Training will prepare students for their graduate studies nationwide and has been designed to fit with master's programs at other North Dakota institutions.

Options C through G have been designed for specific careers and will offer students the opportunity to meet their prerequisites for the next step in their academic career in pre-physical therapy, pre-occupational therapy, pre-physician assistance, pre-chiropractic, or pre-med.

Careers in exercise science are growing faster than average due to the fact that all baby boomers will be over the age of 65 by 2030, meaning one in every five residents of the U.S. will be of retirement age. For the first time in history, older people will outnumber younger people, making it more necessary for rehabilitation-focused degrees and professions.

"By adding rehabilitation to our exercise science program, we are preparing individuals to work with all populations," Golly said. "People are living longer, so rehabilitation is an important part of making sure people can live independently for as long as possible."

For more information about the exercise and science rehabilitation major, more information is available on Minot State's WEBSITE. For questions, Golly can be reached at heather.golly@MinotStateU.edu.
About Minot State University
Minot State University is a public university dedicated to excellence in education, scholarship, and community engagement achieved through rigorous academic experiences, active learning environments, commitment to public service, and a vibrant campus life.
---