Klimpel takes Minot High JV cheer to victory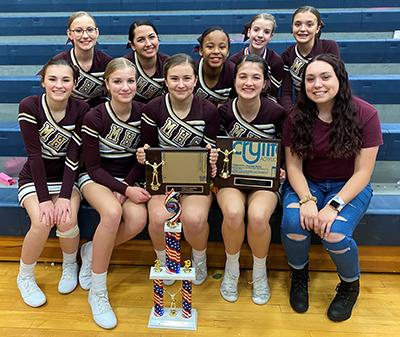 By Emily Schmidt
University Communications Student Assistant
studentpio@minotstateu.edu
MINOT, N.D. – Minot State physical education major Vytalli Klimpel coached the Minot High School junior varsity cheer team to victory, beating varsity teams at the state cheer competition last November.
Klimpel has been cheering since she went to Minot High, and she continues to cheer for the Minot State team.  Two years ago, however, the varsity cheer coaches at the high school asked her if she could take over the junior varsity team.
Klimpel was up for the challenge.
"I go to all their games, make up all their competition routines, and I teach them how to stunt," she said. "Since they're JV, I pretty much have to teach them how to cheer since lots of them come from (knowing) nothing (about cheerleading), so I feel like my job is harder than a varsity coach.
Even though seven out of the nine members of the JV team were completely inexperienced with cheerleading, that did not stop Klimpel from choreographing a winning routine.
The competition includes three judges, each with 100 points to give. These points go towards tumbling, voice and expression, formations, and even crowd appeal exhibited during the two-minute routine.
After two months of learning and cleaning their routine, the team's work finally paid off when they took first place.
"It was great, especially since we went against varsity teams," Klimpel said. "The routine portion of the competition is what you say wins state, and lots of other JV teams didn't do the routine because it's the most challenging one and it's longer, so we went in the small group varsity one. Being able to beat all of them was pretty cool. We were hoping for like, third, because we knew they were giving out only three places. When they called second and it was the team we were afraid was going to beat us, we were like, oh, we didn't even place, so when they called us we were happy."
On top of being a personal passion of hers, Klimpel also gains valuable job experience coaching the team since she is studying physical education and coaching.
"I like being able to teach them but also do it myself, because lots of times when I am teaching them stuff, I can demonstrate it also," she said. "A lot of my classes tell me that coaching and teaching are different, but I think it helps a lot, especially since I'm already in the school system, so it'll be easier to get a job. I think a lot of it helps because now I know how to connect with the kids better."
Klimpel plans to continue coaching after she graduates from Minot State.
"It's fun and I like it, and it'll be a way for me to keep doing cheer-related things when I can't cheer here anymore," Klimpel added.
Coaching an entry-level team can be tough, but it also results in Klimpel's favorite part of the job.
"It's challenging getting a new set of girls every year. Making that connection over and over each year with a new team and new people is kind of hard, but it works out," she said. "I just really like being able to see them go on to varsity. That's my favorite thing. All my kids from last year are on varsity this year, so that's cool.
"I love cheering myself, but it's fun to teach other people how to do it too and see them grow as cheerleaders."
About Minot State University
Minot State University is a public university dedicated to excellence in education, scholarship, and community engagement achieved through rigorous academic experiences, active learning environments, commitment to public service, and a vibrant campus life.
---