Bussard's many talents lead him to dental school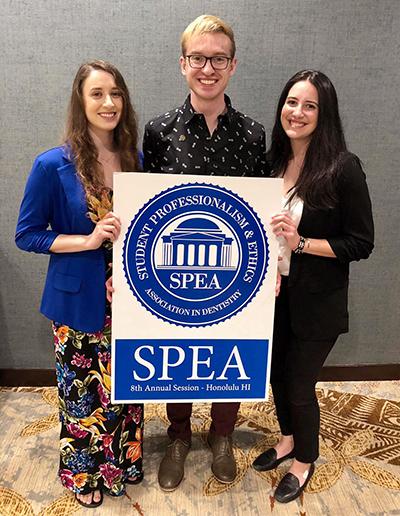 INDIANAPOLIS, Ind. –  Joshua Bussard describes going to dental school like trying to take a sip of water out of a fire hydrant, all the time.
"The challenge of dental school is the volume of material. Our curriculum is similar to medical students and we also have a significant hand-skills component. Dentists often work in less than millimeters which makes it incredibly important to very good with your hands," Bussard said.
Now in his final year of dental school, Bussard has proven that he is willing and able to take on the academic rigor and long, sleepless nights that often come with preparing to become a health professional. His mastery of time management allowed him to thrive when he was an undergraduate at Minot State where he double majored in biology and music performance.
"It was definitely challenging," Bussard said, as he reflected on his time at Minot State. "That was the great thing though, Minot State was willing to accommodate my pursuit of both music and science." 
Bussard first started playing the guitar when he was a boy, and quickly transitioned to his initial draw to music, the violin. As part of his curriculum at Minot State, he was a violinist in the Minot Symphony Orchestra, Minot State String Ensemble, Dakota Scholars String Quartet, and a regular participant in Dakota Chamber Music. Even now, balancing the demands of dental school, Bussard continues to play as the concertmaster of the Indiana University School of Medicine Orchestra which is made up of health professionals from a variety of disciplines.
Bussard knew that he wanted to become a dentist after a transformative experience through orthodontics in his middle and high school years. After having braces, Bussard found that the end result had a positive impact on his confidence and opened his eyes to what the dental world could do for people.
"I wanted to provide similar personal transformations for other people. As I pursued a career in the dental field, I discovered that dentistry highlighted my strengths and mirrored my personality," Bussard said.
Bussard was accepted into the Indiana University School of Dentistry during his final semester at Minot State, which allowed him to attend dental school directly following graduation in the summer of 2016.
"The most rewarding part of dentistry is working with patients and helping them achieve their goals," he said. "I'm also a community-oriented person and enjoy getting out in the community and lending a hand. Upon graduation, I will have completed over 300 volunteer hours where I helped provide care for people who otherwise wouldn't receive of have access to care."
Currently, Bussard is applying to residency programs which he will begin after the completion of his Doctorate in Dental Surgery at the Indiana University School of Dentistry.
Bussard would eventually like to treat patients in a private practice setting in the place he calls home — Minot, North Dakota.
About Minot State University
Minot State University is a public university dedicated to excellence in education, scholarship, and community engagement achieved through rigorous academic experiences, active learning environments, commitment to public service, and a vibrant campus life.
---