Minot Symphony opens 94th season with 'Homegrown' Saturday, Oct. 12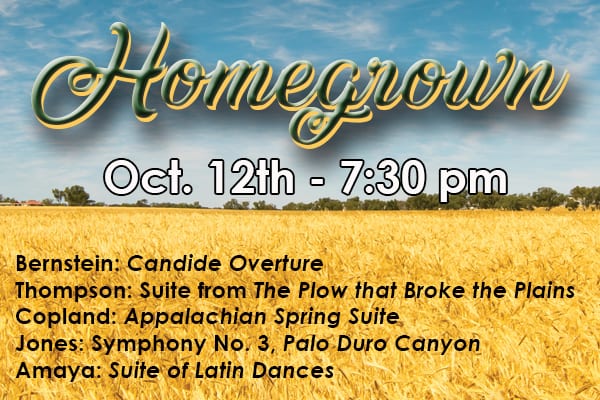 MINOT, N.D. – The Minot Symphony Orchestra presents their 94th season opener "Homegrown" on Saturday, Oct. 12 at 7:30 p.m. in Minot State's Ann Nicole Nelson Hall.
The symphony will celebrate Indigenous Peoples' Day with a festival of our country's cultures featuring all American composers.
The program will begin with Leonard Bernstein's "Candide Overture." Virgil Thomson's folk melodies from the 1936 short documentary film "The Plow that Broke the Plains" will be featured along with Samuel Jones' Symphony No. 3, "Palo Duro Canyon," depicting the constant Texas plains wind and incorporating Comanche Indian themes in his piece. The suite from Aaron Copland's ballet "Appalachian Spring" will also be performed and Minot Symphony Maestro Amaya's "Suite of Latin Dances" explores folk rhythms from his native Venezuela.
"For our opening concert, we will feature all American composers, Bernstein, Copland, Virgil Thomson, as well as by my mentor and conducting teacher Samuel Jones. We will also premiere my own piece, "Suite of Latin Dances." said Efrain Amaya, Minot State music assistant professor and Minot Symphony Orchestra music director.
"Homegrown" is the first of the Symphony's six concert series for the 2019-20 season. Other concerts in the series include: "From Russia with Love" on Nov. 16 featuring Ukrainian-American pianist Marina Lomazov, "Holiday Magic" on Dec. 14 featuring Emerson Eads, Minot State director of choral activities and assistant professor of music,  and area choirs, "The Remarkable Farkle McBride" family concert on Feb. 8, "Fun and Games" on March 8, and as the season finale, "The Titan" on April 25 featuring the Heartland Marimba Quartet.
Season tickets are available and include a reserved seat and admission to all six season performances. Season ticket prices for adults are $155 for balcony or $130 for main floor. Senior and student discounts are available, and the Symphony also offers a Flex Pass which includes six unreserved concert tickets for the price of five. The Flex Pass can be used for multiple tickets to the same performance or spread out between performances. Individual main floor tickets are $25 or $30 for balcony with senior and student discounts available. Tickets are available ONLINE or through the box office at 701-858-4228.
Erik Anderson, Minot State music professor, and Charlie Young, Minot State music assistant professor, will provide pre-concert talks which are perfect for newcomers, experienced listeners, and anyone in between. The talks begin one hour before the concert and is free with concert ticket, excluding "Holiday Magic." They will provide an engaging overview of the works being performed, talk about the story behind the music, the composer, and historical context.
The symphony will partner with The Spot for beer and wine beverage service for patrons age 21 and over before the concert as well as during intermission. Funds raised will be used to support future symphony programming.
The Minot Symphony Orchestra is a unique blend of student, community, and professional musicians from the Minot area.
About Minot State University
Minot State University is a public university dedicated to excellence in education, scholarship, and community engagement achieved through rigorous academic experiences, active learning environments, commitment to public service, and a vibrant campus life.
---