Minot State to host Parent & Family Weekend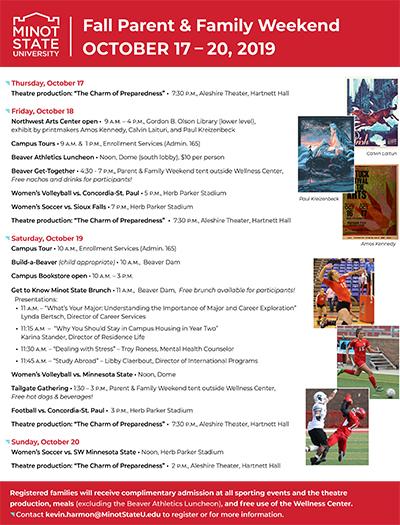 MINOT, N.D. – Minot State University is hosting Parent & Family Weekend Thursday, Oct. 17 to Sunday, Oct. 20. With events ranging from sports to theater to brunch, there will be something for everyone in attendance.
"Parent & Family Weekend is a time for families to visit their students and get a glimpse into their lives as Minot State Beavers. Over the course of the weekend, we will have a handful of activities planned for our students and their family members," Kevin Harmon, vice president for student affairs, said. "Parent & Family Weekend continues to grow in popularity as we expect over 100 families to visit campus this weekend."
The weekend kicks off with the theatre production of "The Charm of Preparedness," a comedy about when a college is turned inside out as a pre-med student begins to organize a campus-wide preparedness drill, at 7:30 p.m. in Aleshire Theater, Hartnett Hall. Other opportunities to watch the performance will be on Friday and Saturday, both at 7:30 p.m., and Sunday at 2 p.m.
Friday, Oct. 18 will provide options to take in the Northwest Arts Center, go on a campus tour, attend a Beavers athletic luncheon and Beaver get-together, and cheer on the women's volleyball and women's soccer teams.
For a child-appropriate activity, take in the Build-a-Beaver activity in the Beaver Dam at 10 a.m. on Saturday, Oct. 19 before attending the Get to Know Minot State Brunch at 11 a.m., where several presentations will be given. The day will also feature tailgating, football, and women's volleyball. The weekend will round out with another women's soccer match on Sunday, Oct. 20 at noon.
For more information or to register, contact Kevin Harmon at kevin.harmon@MinotStateU.edu. A full list of events can be found HERE.
About Minot State University
Minot State University is a public university dedicated to excellence in education, scholarship, and community engagement achieved through rigorous academic experiences, active learning environments, commitment to public service, and a vibrant campus life.
---