Tiedman named professor of the year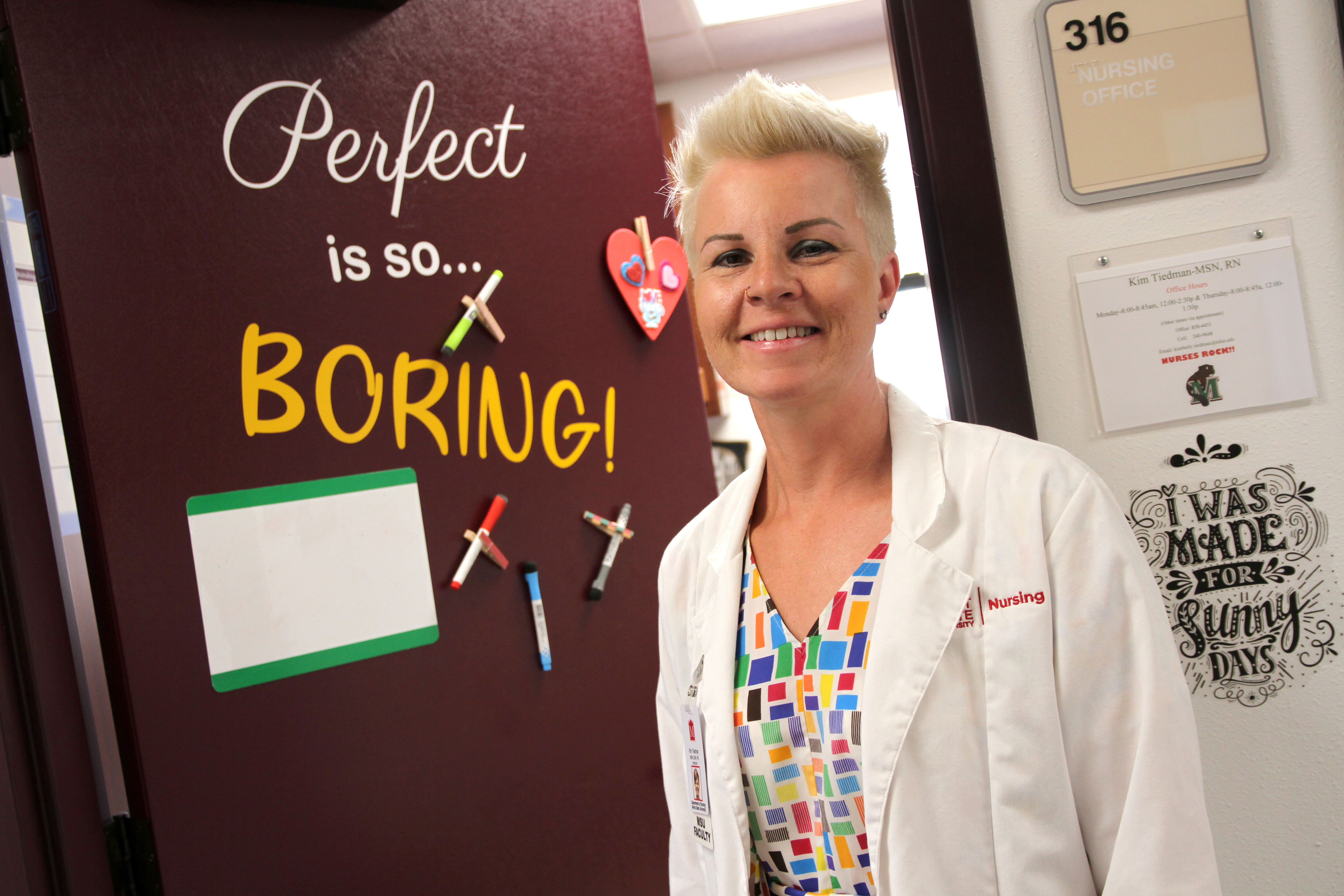 MINOT, N.D. – Kimberly Tiedman, a nursing instructor who has worked at Minot State for three years, received the professor of the year award from SGA for the college of education and health sciences.
"I was shocked. I'm very thankful and appreciative for award from SGA because that means a lot coming from students," Tiedman said.
The nurse of 20 years said that her main focus as an instructor is to keep the students' attentions through her three-hour medical surgical courses.
"It's a long time to sit. If I'm just lecturing and have power points, I do not have that long of an attention span, so we do different things," Tiedman said. "I'll have the students sometimes lecture. We'll do games. I've utilized things on the internet, blogs, and that type of thing. It's kind of fun to mix it up a little bit like that, and they love the games and the competitions. A lot of them say that's how they remember things better." 
Some of the games Tiedman utilizes are well-known games that she's adapted for the classroom.
"I purchased a Jenga set, and I put a bunch of questions on the pieces. I have them pull that out, and they have to answer that question. We play bingo, and we do trivia like Jeopardy. I found an app on the computer that has a wheel. You spin the wheel, and it has every students' name, and they have to answer a question," Tiedman said. "We've done physical, actual competitions like Minute to Win It, which they always like that." 
The nursing department also has a simulation center where students practice with mannequins. 
"That gives them a lot of experience in a safe environment, so they can make their mistakes there and learn from them. We record and they watch it. Those are things that stick in your mind and you won't make that mistake again," Tiedman said.
While hands-on work is major element of Tiedman's teaching style, she said she tries to accommodate all students.
"I try to make sure I hit all the different learning styles because everyone learns differently. I post a lot of helpful things where there's acronyms because some people remember better that way," she said. "Some people learn better by reading or by listening. I'm a doer and a see-er, so I like to be hands on because that's how I remember, and the majority of people are like that."
Another aspect of Tiedman's instruction is being available outside of class for students who need help.
"I'm always there for the students. I've had students who have had questions and they're like, 'Can I meet with you before class?', and I'll come in at seven in the morning versus coming in at eight to meet with that student because that was convenient for them," Tiedman said. "I think that's very important to be available and there for them when they need some assistance."
Teidman spent part of her summer attending conferences where she gathered some ideas for the coming academic year.
"There was a presentation at the last conference I went to where they had an escape room for the nursing staff at a hospital, and they had a lot of fun and a lot of positive feedback," Tiedman said. "I also want to try an escape room for simulation. I'm trying to think of things to make clues and thinks like that. They might have to find the safety issue that is happening. I'll have to be a little creative."
About Minot State University
Minot State University is a public university dedicated to excellence in education, scholarship, and community engagement achieved through rigorous academic experiences, active learning environments, commitment to public service, and a vibrant campus life.
---