Sold out shows highlight successful 54th season for Summer Theatre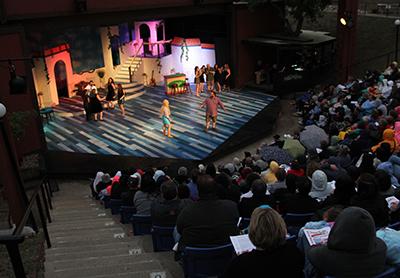 MINOT, N.D. – Minot State University Summer Theatre sold out all 10 performances of "Beauty and the Beast" in early August and broke its season attendance record to cap off a successful 54th season.
Summer Theatre attracted just under 12,000 people over 28 performances.
"Season 54 was one of our most successful seasons ever," said artistic director Chad Gifford. "There were many people attending for the very first time, but there were also audience members who chose to come back again and again to see the same play. There really isn't a greater compliment than seeing someone come back to see a show again. We rolled out a few new features this summer as well. Our new online ticketing system and the addition of credit card machines went over extremely well. We also created a photo booth for audience members to pose with characters from 'Beauty and the Beast,' which was incredibly successful."
"Beauty and the Beast" was the crescendo to the season as patrons packed the iconic amphitheater on Minot State's North Hill for 10 straight performances. The 10-performance run was a break from the norm for Summer Theatre.
We sold out every performance of 'Beauty and the Beast,' so in that regard, it was quite successful to have 10 performances," Gifford said. "For the right show in the future, we will definitely consider doing it again."
While the season was a success, Minot State also announced plans for a renovation to the amphitheater, with construction expected to start immediately after the conclusion of Season 55 next summer.
"We are so excited for the building project," said Gifford. "For how long the building has been standing and due to our growing popularity, improvements are necessary. The new facility will allow us to better serve our audiences needs as well as supporting our performers.
"We need the support of the community to make those improvements happen. I am still confident that we will see this new building project in place by 2021. Everyone should check out msusummertheatre.com to find out more about this project."
Gifford now begins the process of building the 55th season of Summer Theatre. While he doesn't have specific shows in place, he will use a tried-and-true formula.
"We have not made any decisions for next season yet; however, we are keeping our audiences in mind as we choose our new shows," he said. "We intend to choose at least one family oriented show and a farce-type comedy. We will choose shows that push us creatively and continue to look for something that has never been seen as well as considering our audience suggested choices."
Minot State Summer Theatre also gave back to two of its own following the 54th season as Kaylee Capp and Kole Erickson were awarded scholarships at Minot State.
"They were both strongly involved in our season and will be pursuing their degrees at MSU," Gifford said. "We hope to see them back again next summer."
Gifford is extremely thankful of the support both on campus and in the community he and Summer Theatre receive each year.
"Thank you to everyone who helped to make Season 54 a success by ushering, driving a golf cart, working concessions, planting and watering flowers, and everything else," he said. "We couldn't do this without the help of the community of Minot."
About Minot State University
Minot State University is a public university dedicated to excellence in education, scholarship, and community engagement achieved through rigorous academic experiences, active learning environments, commitment to public service, and a vibrant campus life.
---