Take a chance on Capp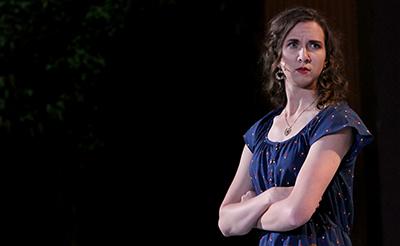 MINOT, N.D. – Kaylee Capp's goal for summer 2019 was securing a spot in Minot State's Summer Theatre production of "Mamma Mia!"
"I want to be Donna or Tanya, but I'm happy with whatever,'" the music education major said shortly after auditions. "As long as I'm in that show, my summer will be made."
The Summer Theatre directors decided to take a chance on Capp, not once but three times. In addition to securing her dream role in "Mamma Mia!," she will also be found on stage during "Big Fish" and "Beauty and the Beast."
This isn't Capp's debut musical theater performance, but the part of Donna will be her largest to date.
"The biggest role beside the Witch in 'Into the Woods,' was this past summer playing Francesca in 'The Bridges of Madison County' at Summer Theatre," she said.
"Into the Woods," performed by the Western Plains Opera Company January 2019, gave her the opportunity to shine on the theater stage. Beyond opera productions, the organization also sponsors the Western Plains Children's Chorus, a group Capp has been involved with since seventh grade.
During her senior year at Max Public School, Capp transitioned from performing to helping in an apprenticeship role before becoming a student director. 
"I just help out the choir anyway I can. It's honestly the thing that made me want to be a music major," Capp said. "Dr. Rebecca Petrik (Minot State assistant professor in music education) has been a big part in that too, she made me feel important as a musician and as a person. I could be myself and she embraced that part of me."

It was the relationships she formed with Petrik and other faculty in the music department that led Capp to Minot State.
"I knew a lot of the music professors in high school through Western Plains and going to different music events and competitions where they would judge," she said. "I knew they were really good people."
The connection built between Minot State and the community, in and out of the classroom, isn't lost on Capp.
"I just love that because of how small of a school we are, the amount of opportunities we have are endless" she said. "Education students get out into the schools as soon as possible, that's really good. We can also create opportunities that we think will be good for the community as well. It benefits us and also the ears of our listeners."
ABOUT SUMMER THEATRE
The Minot State Summer Theatre kicks off its 54th season with "Mamma Mia!" June 12-17. "Cash on Delivery" will be performed June 26-July 1, followed by "Big Fish" July 10-15. The season will conclude with "Beauty and the Beast" running July 24-28 and July 30-Aug. 3. Tickets can be purchase ONLINE.
About Minot State University
Minot State University is a public university dedicated to excellence in education, scholarship, and community engagement achieved through rigorous academic experiences, active learning environments, commitment to public service, and a vibrant campus life.
---