Hess Corporation donates to Minot State Summer Theatre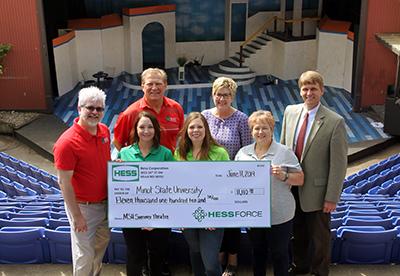 MINOT, N.D. – Minot State University announced Hess Corporation has donated $11,110.50 to Minot State University Summer Theatre to upgrade the sound system at the iconic amphitheater.
Members of Hess Corporation in Minot presented Minot State President Dr. Steven Shirley with a check Tuesday at a ceremony at Summer Theatre. This marks the second year Hess Corporation has donated to the long-running summer program as new lighting was installed for the 2018 season.
"Minot State University Summer Theatre is an asset to the region and many of our employees have had an opportunity to enjoy the beautiful outdoor theater," said Brent Lohnes, general manager for Hess North Dakota. "At Hess, we work to identify and support those groups and programs that help strengthen the communities where our employees live, work, and play. We are happy to support the performing arts and provide the needed resources for new lighting and upgrades to the audio equipment utilized by the MSU Summer Theatre."
The upgrades planned for Summer Theatre in 2019 include replacing 30 general microphones and 10 MicroSet head-worn microphones along with multiple sound system upgrades needed to maximize audio at the amphitheater to allow patrons the opportunity to fully enjoy performances.
"We are planning to start fresh with all new microphones, a new sound board, and new cables," said Chad Gifford, MSU Summer Theatre artistic director. "With the new equipment, this will give us clearer sound throughout the amphitheater and we won't have some of the issues we've had in the past with microphones breaking in the middle of an event."
Minot State Summer Theatre began its 54th season in June and has been home to countless events since it found its permanent home on the hillside on the north end of campus in 1971. In 2018, more than 9,000 audience members experienced four productions featuring talent from Minot State and the surrounding communities.
Projects like the upgraded sound system and improved lighting have enhanced the theater experience over the past five decades.
"With the support of a company like Hess, we can raise the bar even higher to make the productions match the quality our audiences have come to expect," Gifford said.
About Minot State University
Minot State University is a public university dedicated to excellence in education, scholarship, and community engagement achieved through rigorous academic experiences, active learning environments, commitment to public service, and a vibrant campus life.
---