Senior Spotlight 19: Jayla Graham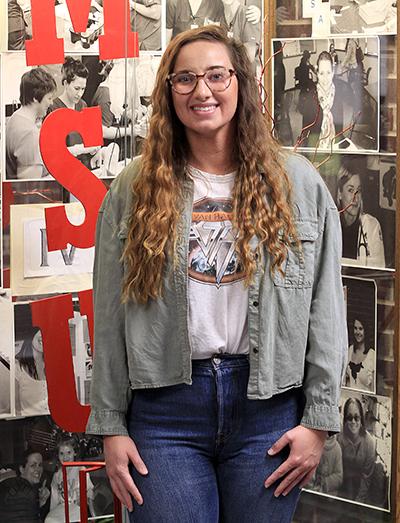 "The nursing program is mentally hard and rigorous but as long as you develop that family close relationship with everyone, it just flies by. I swear I feel like I just enrolled but I'm already done. The relationships I developed with all my friends and teachers, they're my family away from home."
Jayla Graham, nursing
MINOT, N.D. – Minot State's MSU Life Bingo, a favorite among students, brings out Jayla Graham's competitive side. This trait followed the nursing student to practicum.
"We had to do a couple hours in the nursing home, it was like 24 hours, and I played Bingo there," she said. "My nursing preceptor was like, 'Do you want to take your patient to go play Bingo?' and I was like, 'Yeah, I love Bingo, let's go play Bingo!' I get real competitive — I feel like our whole nursing class is very competitive — and this little old guy kept saying, 'Bingo!' and he kept winning and I was like, 'How is he winning all of this? There is no way!'"
Although she didn't win against the patients at the Bingo table, she did walk away with more insight into that area of care.
Graham comes from a long line of nurses and started her career as a CNA her sophomore year of high school in Malta, Montana. She originally thought she'd find her way into pediatric oncology but found her fit somewhere else this year.
"When I did my practicum up there (at Trinity Health), I did half ER and half in labor and delivery. I wondered if I was going to get the feeling of knowing where I wanted to belong," Graham said. "And it all clicked during labor and delivery."
Amy Roberts, Minot State assistant professor of nursing, saw her potential. When Roberts saw a job opening at Trinity Health, she texted Graham.
"She goes, 'By the way, you need to apply for the mom baby job because there's openings. I gave you a glowing recommendation.' I didn't even ask her for it, she just did it, and she goes, 'Honestly, when I see you in clinicals, you were born to do this,'" Graham said. "For your teacher to see you and see where you are being great at clinicals and knowing where you are meant to be, it's amazing."
Graham applied and has been hired for the job, a testament to her hard work.
"Jayla was such a pleasure to teach and get to know," said Roberts. "She has a fantastic attitude and was always excited to learn and apply the new information she learned in theory to the clinical setting. Jayla has excellent communication skills. I especially appreciate her enthusiasm for maternal newborn care, her professional demeanor, her kind caring nature, and her conscientious approach to patient care."
As Graham prepares for commencement on Friday, she looks back at her favorite part of her university experience: the relationships gained.
"The nursing program is mentally hard and rigorous but as long as you develop that family close relationship with everyone, it just flies by," she said. "I swear I feel like I just enrolled but I'm already done. The relationships I developed with all my friends and teachers, they're my family away from home."
About Minot State University
Minot State University is a public university dedicated to excellence in education, scholarship, and community engagement achieved through rigorous academic experiences, active learning environments, commitment to public service, and a vibrant campus life.
---