Senior Spotlight 19: Graduate school brings group together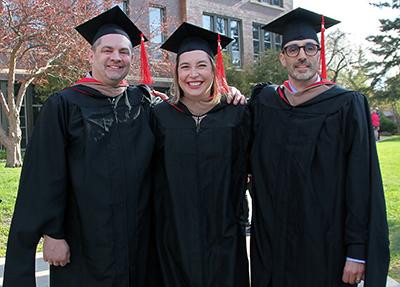 "I felt that in order to continue to advance my career in higher education, it was important to earn a higher level degree. I work full time and have a family to care for as well, a typical on-campus approach would be difficult to manage. I needed something that I could do on my time and complete coursework around my schedule. It was a good fit with my career goals and was an affordable option. It was important to me to enroll in a reputable, regionally-accredited institution, and I was not interested in taking classes from a for-profit entity. When I learned about the Master's of Science in Management program at Minot State, it met all of the criteria I was looking for."  Retha Mattern, Master of Science in management
Pictured from left: Steve Lowrey, Retha Mattern, and Justin Data.
MINOT, N.D. – The online component of the Minot State University Master of Science in management is what introduced Justin Data, Levi Gaytan, Steve Lowrey, and Retha Mattern to each other.
But a desire to meet one another in person after spending countless hours working towards their respective degrees brought them to Minot.
"It will be a perfect end to the whole experience. I never thought I would make new college buddies at 47 years old, but here we are," Data said.
Two of the four live on the East Coast with Data coming from Greenwich, New York, and Lowrey hailing from Frederick, Maryland, making for long trips to the Magic City. Mattern "only" had the 100-plus mile drive from Bismarck. Gaytan, originally from Mesa, Arizona, and now living in Portland, Oregon, was not able to make the trip.
"I was originally planning on coming to graduation from the start and meeting my awesome teammates," Gaytan said. "We all have a special connection though this program that spans from coast to coast, like a big hug with Minot State at the heart of it all. The thought of connecting with Retha, Justin, and Steve, is exciting!  I'm committed to seeing that though and I truly look forward to that day."
All four students singled out Minot State's online delivery, its accreditation, and its cost as factors in choosing MSU over other institutions in the country.
"I felt that in order to continue to advance my career in higher education, it was important to earn a higher level degree," Mattern said. "I work full time and have a family to care for as well, a typical on-campus approach would be difficult to manage. I needed something that I could do on my time and complete coursework around my schedule. It was a good fit with my career goals and was an affordable option. It was important to me to enroll in a reputable, regionally-accredited institution, and I was not interested in taking classes from a for-profit entity. When I learned about the Master's of Science in Management program at Minot State, it met all of the criteria I was looking for." 
"I was looking for a degree I could get through the flexibility of online learning, while having the backing and reputation of a healthy, traditional, brick-and-mortar institution," Data added. "The online component helped me attend class from wherever I was, whenever it was convenient to do so. I'm in my 40s and have a busy career and family life — which includes two teenagers, so having that flexibility in the delivery of the program helped me to fit in my graduate work at all of the odd hours of the day and night."
When Lowrey was in the process of selecting his graduate school, he realized he had ties to Minot., creating another bond with the school prior to making friends his fellow classmates and his professors.
"When I mentioned it to my father as one of my options, I learned that he'd been stationed at Minot in the 70s," he said. "The main aspect of the program that stands out is the partnership and friendship that blossomed from my first group project with Dr. (Linda) Cresap. Dr. Cresap matched four strangers: Justin, Levi, Retha, and I together to form what I expected to be a one-time partnership. Instead, what I found were three dedicated, caring, intelligent, and talented peers who became the highlight of my experience and who I hope will be life-long friends.
"I want to thank Dr. Cresap for matching us. I look forward to meeting her and asking how she chose to match us; she did an incredible job of finding four like-minded and dedicated people who just 'clicked.' And I want thank Dr. (Gary) Ross for allowing us to finish our final class and project together."

Gaytan echoed Lowrey's praise of the faculty at Minot State in helping him achieve a dream.
"The program itself was challenging. However, the support I had along the way from my professors and my amazing groupmates was absolutely great," he said. "I could email my professors anytime I had a question and could even arrange for a quick phone call to talk through any areas I had struggles with. Education should be possible and within reach. The fact that the Masters of Science in Management program was available entirely online was certainly convenient, and the fact that the program offered in-state tuition for all was a HUGE plus! It made that dream possible for me.
"Because of that, I stand today, tall, proud, and strong, as graduate of Minot State University and a Beaver for life!"
The connection between the four students was almost instant and didn't wain throughout the program.
"The four of us worked together in a group project in our first semester of the program and have kept in touch since then, working together on a few more group projects prior to the capstone this spring," said Mattern. "All four of us are older than average students and work full time. I think having that experience of being out of school for a while made us connect well as a group. The experience I had as an online student at (Minot State) would have been very different without connecting with these other guys."
About Minot State University
Minot State University is a public university dedicated to excellence in education, scholarship, and community engagement achieved through rigorous academic experiences, active learning environments, commitment to public service, and a vibrant campus life.
---