2019-2020 Student Government Association takes the reigns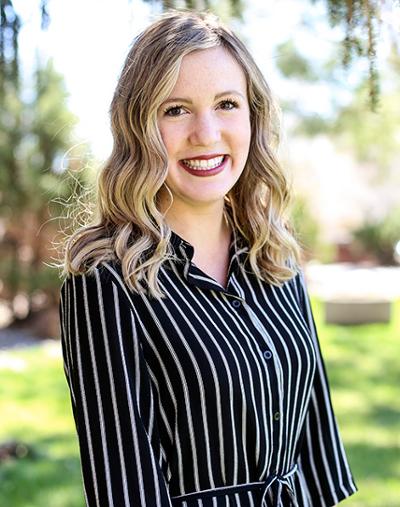 2019-2020 SGA President Janel Bortoluzzi
MINOT, N.D. – On Monday, April 29, the last Minot State Student Government Association (SGA) meeting of the 2018-2019 school year was held.
At the helm was incoming 2019-2020 SGA President Janel Bortoluzzi.
Bortoluzzi, who was elected during March 25 and 26 voting, is currently finishing up her post-baccalaureate year at Minot State and will begin her graduate studies in communication disorders Fall 2019.
"I've really enjoyed my time at Minot State thus far and I appreciate the close-knit community," said Bortoluzzi. "I feel like Minot State has created a sense of belonging for me and for many students. I want to give back to the community and the campus and help implement positive change wherever I can and address the issues that students are facing. I'm looking forward to working with everyone and meeting new people."
Implementing positive change has been a tenet of Bortoluzzi's since her arrival in Minot.
The Winnipeg, Manitoba native spent the year coaching basketball for Special Olympics, getting involved in the campus National Student Speech Language Hearing Association (NSSLHA) chapter, serving as a peer mentor at Advancing Students Toward Education and Employment Program (ASTEP), tutoring at the POWER Center, helping as student ambassador, and working the front desk in the student activities office. She also spent the year as SGA Senator for the College of Education and Health Sciences.
Bortoluzzi is joined by three new members to the Executive Board. Vice President of Finance Cole Brose from Minot, Vice President of Internal Affairs Madison Tiedman, Minot, and Vice President of State Affairs Felicia Arias, Los Angeles, were also elected in March.
"One key point I want to focus on is student engagement and involvement in student government," said Bortoluzzi. "I want students to be aware that, as senators, we are representatives for them. We want their voices to be heard."
In addition to Executive Board elections, students selected senators in four areas. Linh Le, Hanoi, Vietnam, and Jaeleon Roberts, Bangor, Saskatchewan, will serve as senators for the College of Business while Bryana Guzman, Orlando, California; Kellie Sink, Minot; and Lordina Yeboah, Tema, Ghana, are the College of Arts & Sciences senators. The College of Education & Health Sciences elected four senators: Aubrey Barker, Minot; Cassie Daniel, Esterhazy, Saskatchewan; Dylan Hennessy, Berthold; and Shelby Tornato, Saskatoon, Saskatchewan. Off-campus senators are Joshua Strong, Scottsdale, Arizona, and Cambree Smith, Minot.
Additional senators will be chosen in the fall for areas including on-campus, graduate school, athletics, general studies, freshman, and other college openings.
About Minot State University
Minot State University is a public university dedicated to excellence in education, scholarship, and community engagement achieved through rigorous academic experiences, active learning environments, commitment to public service, and a vibrant campus life.
---