Ness selected for project celebrating women's suffrage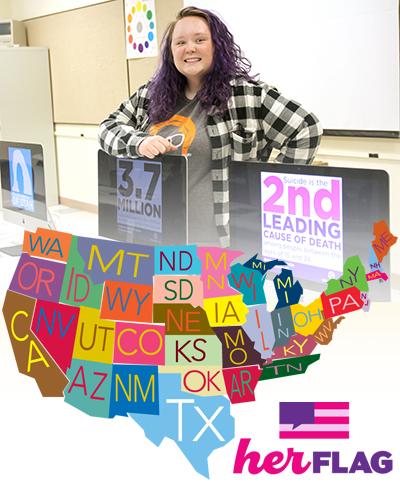 MINOT, N.D. – Darby Ness, an art student at Minot State and Chief Graphic Designer for College Democrats of America, has been nominated for a national collaboration in celebration of women's suffrage.
Her Flag is a project that Marilyn Artus, a visual artist based in Oklahoma, is leading. Artus will be sewing together a flag, one stripe for each of the 36 states that ratified the 19th amendment — which famously gave women the right the vote.
The 19th amendment was officially ratified on Aug. 18, 1920.  Beginning in June of 2020, Artus will travel to the states in the order that they voted in favor of women's suffrage. North Dakota is No. 20 on the list.
Thirty-six artists were chosen to create a stripe for their respective states.
"I'm designing North Dakota's stripe," Ness said. "My stripe is six inches by 312 inches. And the final flag, once we get them all put together, is 18 feet by 26 feet."
Ness first heard about the project through social media.
"A lot of people were tagging me in the post on Facebook because I also make political artwork, so it's right up my alley," Ness said. "I was like, why not, so I applied for it. I honestly didn't think I would get it, but here I am."
Part of the excitement for Ness is the other artists who are also working on the flag.
"There's some pretty big names on this project, like the designer that designed the Women's March logo and the woman that designed the cover for the 'Sgt. Pepper's Lonely Hearts Club Band,' by the Beatles," Ness said. "It's an honor because I'm making something with all these other great women artists that are already accomplished in their careers, and here I am in college, getting my degree."
Ness will be paid $1,000 for her work and is currently working on the project. Ness chose historical photos of women as a backdrop for the stripe.
"I'm getting close to being done," Ness said. "I'm using my photography professor's collection of old photographs. He let me scavenge through them. I picked out ones that I liked of women, and then I scanned them in and I'm making a collage of old images in the back, and then type on the top."
The exact date that Artus will travel to North Dakota has not been set, but according to the Her Flag website, she will sew the stripe on in a public place in Bismarck.
For more information about the Her Flag project, visit HERFLAG.com. Ness' artwork can be found on Minot State's art program page under STUDENT ART.
About Minot State University
Minot State University is a public university dedicated to excellence in education, scholarship, and community engagement achieved through rigorous academic experiences, active learning environments, commitment to public service, and a vibrant campus life.
---