Minot State University debuts portable breastfeeding unit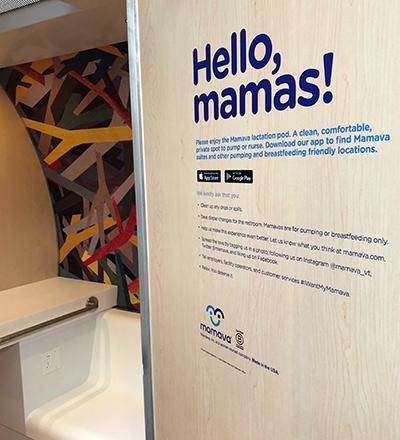 MINOT, N.D. – A new private space for nursing mothers is available on Minot State University's campus.
The Mama Beaver Dam, an ADA portable lactation suite, features two handicap accessible benches, a fold-down table, and power outlets, providing a safe and comfortable space to pump or nurse. The extra bench allows for children to accompany their mother in the pod.
Funding for the station was provided by Minot State's 2018-2019 Student Government Association (SGA).
"Over the past three years that I've worked in student affairs, I've been making arrangements for students in several buildings, just trying to find mothers a place where they could pump, so I've always been aware that there's been this need," Kevin Harmon, Minot State vice president for student affairs, said. "Last year, I noticed the Mamava unit at the Minot (International) Airport and asked for more information. I then approached the SGA about sponsoring a Mamava unit for the campus."
The pod is open to students and visitors at Minot State. To use, mothers simply need to download the Mamava app. The Minot State location will pull up to view and show if the unit is vacant or occupied. The app also functions as the key to unlock the pod when vacant.
The suite is currently located in the atrium of the Student Center. Its portability, however, gives it the ability to be moved to other areas on campus.
The Mamava app connects to lactation pods across the United States, allowing mothers to find locations nearest to them. The Mama Beaver Dam is the second lactation station available in Minot, with the other located at the Minot International Airport, and the sixth in North Dakota.
About Minot State University
Minot State University is a public university dedicated to excellence in education, scholarship, and community engagement achieved through rigorous academic experiences, active learning environments, commitment to public service, and a vibrant campus life.
---