Honors Program to host Music Art Personal Stories: The Road to Recovery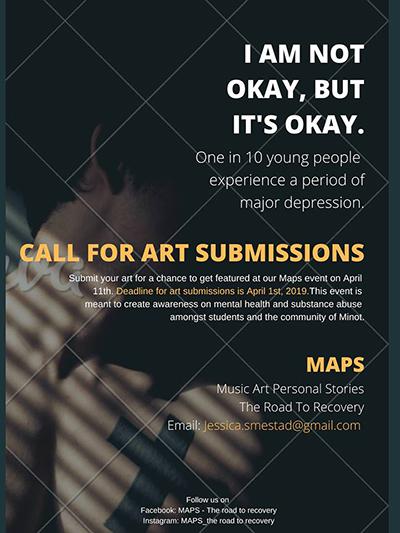 MINOT, N.D. – The Minot State University Honors Program is seeking anonymous story and artwork submissions for their upcoming Music Art Personal Stories: The Road to Recovery (MAPS) event. Submissions are due April 4 for the April 11 event.
Students currently enrolled in the HON 391H Community Problem-Solving course have created the event for a class assignment.
"One of our projects for the semester is to hold an event in which we talk about mental health in a positive light and bring awareness to issues concerning mental health and substance abuse," said Favour Ozordi, Minot State energy economics and finance major and honors program student.
Minot and area community members as well as Minot State students, faculty, and staff are encouraged to anonymously share their personal stories and artwork regarding mental health and substance abuse by Thursday, April 4. Works can be submitted HERE.
On Thursday, April 11, MAPS will be open to the public in two different locations at two different times.
"The event has two parts," Ozordi said. "The first part of the event is going to be in the atrium, listening to music, hearing stories, and looking at artwork. Then, we're going to move into the Beaver Dam when the speakers give their speeches and there will be snacks."
Part one will be held from 11 a.m. until 2 p.m. in the Minot State Student Center atrium while part two will be held from 5-8 p.m. on the second floor of the Student Center in the Beaver Dam.
The Minot State Honors Program offers a series of courses that can earn a concentration or minor as well as an honors program distinction on students' transcripts. Participants are motived to explore challenging and interdisciplinary curricula where critical thinking, a broad worldview, and a commitment to serving others is emphasized.
About Minot State University
Minot State University is a public university dedicated to excellence in education, scholarship, and community engagement achieved through rigorous academic experiences, active learning environments, commitment to public service, and a vibrant campus life.
---