Fagan debuts 'Honeymoon in Minot' at Minot State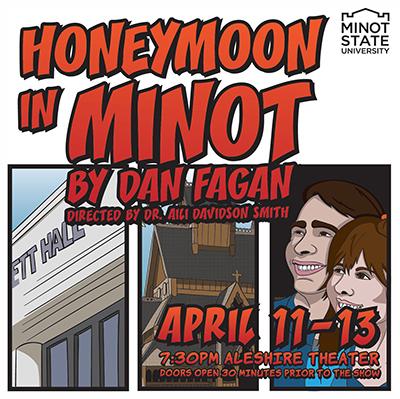 MINOT, N.D. – Dan Fagan has walked away from acting a couple times in his life.
But he understands he will never fully remove theater out of his system. Acting — what he dedicated much of his 20s to — is not his current avenue, but writing, something he gravitated to in his 30s, now takes center stage.
Fagan, a 2018 finance graduate of Minot State University, will debut his original play "Honeymoon in Minot," directed by Minot State professor Aili Davidson Smith, at Aleshire Theater Thursday, April 11 at 7:30 p.m. The show will run three nights with shows on Friday, April 12, and Saturday, April 13 also at 7:30 p.m.
"I'm always going to be open to doing shows, if they are the right fit for me," he said. "I love acting and no matter what I do in life, I will find a way to fit theater in. But this is what I am doing now. Acting is very demanding, especially if you are going to be a professional, and it gets harder as you move on. It's grueling. That's why I love writing so much. I can do this until the day I die. I can sit down anywhere and write. I love telling a story and don't have to worry about getting cast in the next show."
Fagan has written five full-length plays, with two being produced, and wrote two 10-minute plays performed at Minot State last spring, but this will be his first show at his alma mater.
"Aili and I talked after I graduated about me producing an original work. She wanted to know if I was interested," Fagan said. "More time went by and she reached out again, and I was happy to write something. She had read a number of my other plays, but asked if I could do one more in the vein of a romantic comedy."
"I am extremely honored and grateful with Dan once again. In addition to acting, Dan is an accomplished playwright who brings a simple, yet complicated plot to life," Smith added. "Last year, I read one of Dan's serious works, and I hoped that one day, I would have the opportunity to direct one of his works. 'Honeymoon in Minot,' is a perfect play for the new generation of MSU Theatre students. I am honored to work with all artists involved in the production."
The light-hearted nature of "Honeymoon in Minot," is a departure from Fagan storyline style, but still carries a theme he has tried to work into his plays.
"It's a departure from my normal, but that is refreshing," he said. "I love tackling new territory, expanding my range. The vast majority of plays are written by playwrights in New York, Chicago, L.A., big cities, and they write about what they know, what's going on there. I've tried to include all the places that aren't those places, a whole country filled with interesting people with interesting stories. I always try to include that."
The storyline of "Honeymoon in Minot," follows a rough outline of Fagan's life as it features an outsider's perspective of North Dakota. Born in Wyoming and spending his formative years in California, Fagan drew on his personal story of moving to Minot to attend Minot State.
"I've created a story where two West Coast people, living in a big city, are flying to Key West for their honeymoon. The plane gets diverted to Minot and they spend their honeymoon here," he said. "The comedy doesn't necessarily poke fun at North Dakota culture, it emphasizes the charm. It's a collision of very different worlds, urban, West Coast and smaller, Midwest. The circumstances and the number of things they get caught up in provides the comedy."
Fagan is excited to see his story come to life at Aleshire Theater.
"I've been told the cast is really doing well with it," he said. "I'm excited to get to the rehearsal room and see how they are doing."
The box office opens at 7 p.m. for each evening performance. Tickets are general admission and reservations are not necessary. Tickets are $10 per person and free for MSU students, faculty, and staff with current MSU ID. Special accommodation seating or any questions regarding this production can be made by calling 701-858-3172.
About Minot State University
Minot State University is a public university dedicated to excellence in education, scholarship, and community engagement achieved through rigorous academic experiences, active learning environments, commitment to public service, and a vibrant campus life.
---