DECA members receive awards at international collegiate conference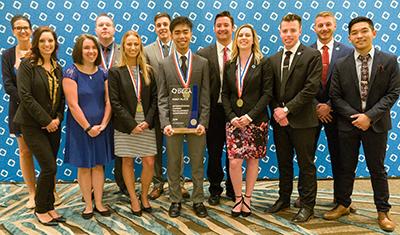 MINOT, N.D. – Members from Minot State's DECA chapter traveled to Orlando, Florida for the International Collegiate DECA Conference (ICDC) that took place April 13 to 16 with several students winning awards.
Jonathan Vo, from Orlando, Florida, took first place in National Management Institute while Asia Pleasant, Fredericksburg, Virginia, and Jameson Hayden, Lancaster, New Hampshire, were Top 10 Finalists in Entrepreneurship – Starting Your Own Business. Nicholas Trumbauer, Manheim, Pennsylvania, walked away a Top 10 Finalist and Top 10 in Test in Managerial Accounting as Emily Love received the same distinctions in Retail Management. Aaron Richard was a Top 12 Preliminary Finalist in Professional Sales and Kellie Sink brought home the Case Study Top Performer Award in Fashion Merchandising. Love, Richard, and Sink all hail from Minot.
Awards of Excellence were received by Levy Cabatingan, Manila, Philippines, in Emerging Technology, Love in Retail Management, Richard in Professional Sales, Sink in Fashion Merchandising, and Trumbauer in Managerial Accounting.
"This team did an exemplary job representing Minot State at the ICDC in Orlando," said Tawnya Bernsdorf, Minot State DECA advisor and College of Business instructor. "DECA is such a vital program at MSU in that it gives students real-world experiences and opportunities to go out and showcase all they are learning in the classroom. It is a wonderful networking and bonding experience for college students that are working on transitioning into the professional world and creates a lifelong connection to Minot State."

A total of 11 Minot State students traveled to Florida after earning top placements in the North Dakota Collegiate DECA Contest in February. The North Dakota Collegiate DECA prepares emerging leaders and entrepreneurs in marketing, finance, hospitality, and management with 10 chapters existing on college campuses throughout the state.
About Minot State University
Minot State University is a public university dedicated to excellence in education, scholarship, and community engagement achieved through rigorous academic experiences, active learning environments, commitment to public service, and a vibrant campus life.
---