Campus and Community Dialogue: Gun Control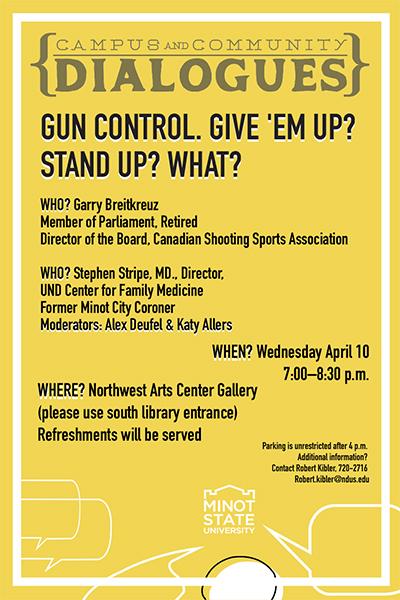 MINOT, N.D. – Please join Minot State University for the fourth installment of Campus and Community Dialogue, set for Wednesday, April 10, beginning at 7 p.m., at the Northwest Arts Center. The topic of the event is gun control.
The Campus and Community Dialogue was created to take on hot topics about which individuals have strong opinions and discuss them in a civil fashion.
Panelists for Wednesday's gun control topic include Stephen Stripe, former coroner for the city of Minot and current head of the University of North Dakota Center for Family Medicine. He will be joined by Garry Breitkreuz, a former Canadian Parliamentarian and the person who led the Canadian movement against gun registration. Alexandra Deufel, chair of the Minot State biology department and Katy Allers, administrative assistant in the humanities department, will moderate.
There will be refreshments including brownies, coffee, and water provided. The event will be live streamed on the Minot State FACEBOOK page.
For more information, contact Robert Kibler, chair of the MSU foreign languages, humanities, and literature department, by EMAIL or phone at 701-858-3876 or 701-720-2716.
About Minot State University
Minot State University is a public university dedicated to excellence in education, scholarship, and community engagement achieved through rigorous academic experiences, active learning environments, commitment to public service, and a vibrant campus life.
---