Strong packs rucksack with experience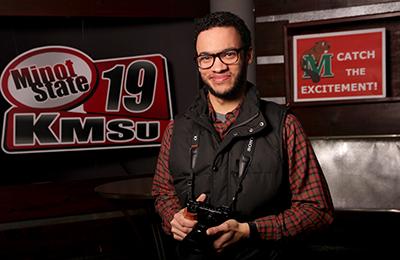 MINOT, N.D. – Joshua Strong has been a student at Minot State since January, but it didn't take long for him to get involved in the broadcasting department.
"I was in school for two weeks by the time I was writing for the paper, hosting Inside Out on KMSU, doing sports photography for the paper — all these opportunities were just like boom, boom, boom," Strong said. "What I originally planned to do was move to a bigger college, but these are things that I would have hopefully waited until my senior to get maybe one of them. Now I'm dipping my feet in so many things, and that's what I wanted to do — hit the ground running with everything that I do."
Strong also works part-time at local television station KMOT as a production assistant in addition to the experience he's gathering at Minot State.
"A lot of students already work there as well. We basically run the behind the scenes production of the evening shows: the six o'clock and the 10. Right now I'm doing video, but there's different positions like audio, graphics, and cameras," Strong said. "There's an MSU graduate there too, so the faculty here and the staff there talk, and they know that we have a good program here. There's students over there from broadcasting and from the art department for their graphics."
Strong is originally from Arizona. After participating in Junior Reserve Officer Training Corps (JROTC) throughout high school, he started college at Northern Arizona University (NAU) to eventually become a pilot. 
"I was actually a history education major. I wasn't really focused on the degree, just becoming a pilot. After I realized college was expensive, I left NAU and then enlisted. My goal was going to be to enlist, finish my degree while I was in, and then become a pilot that way," Strong said.
His plans eventually changed.
"I joined, did basic training and all that stuff in Texas, and came from Texas straight to here," Strong said. "I don't really blame anything specifically like location or the Air Force itself, but after a while, I just came to the realization that's not what I want to do."
Strong settled on photography and video production.
"After a while, I knew I was going to get out (of the Air Force). I was always back and forth on what I was going to do. I've always loved montages or promotional videos and stuff like that. I've always liked watching it. I never really saw myself making it," Strong said. "When I first came to the program here, I was interested in radio, but now video and photography is available to me as an avenue, so I'm trying to pursue that."
Strong recently launched Strong Shot Productions, a freelance photography and videography page on Facebook and Instagram, to gather content for his portfolio.
"Basically I'm trying to get my feet wet before graduation, especially because we are already required by our majors to build portfolios," Strong said." I'm trying to take that step further.
"Right now it's going to be a portfolio, but if I get good exposure, hopefully I can get clientele and actually start maybe making a part-time business out of it. I want to come out of here not only with a degree but with experience. I always use the analogy of having a rucksack and packing things in your rucksack before you take off on a journey, so that's what I'm doing here — packing my ruck full of experience and education before I set off."
About Minot State University
Minot State University is a public university dedicated to excellence in education, scholarship, and community engagement achieved through rigorous academic experiences, active learning environments, commitment to public service, and a vibrant campus life.
---