North Dakota first lady brings 'Recovery Reinvented' to Minot State campus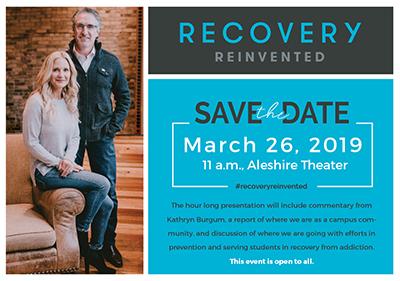 MINOT, N.D. – North Dakota first lady Kathryn Burgum will be at the Minot State campus on Tuesday, March 26 for a Recovery Reinvented panel discussion about drug addiction and recovery affecting university students in Aleshire Theater at 11 a.m.
The panel will be made up by Burgum; Vicki Michels, Minot State chairperson for the department of addiction studies, psychology, and social work director of addiction studies; and Minot State University students Molly Allery, Brittney Eisenzimmer, and Michael Chappo. Topics will include commentary from Burgum, a report on substance use on campus, and a discussion of how the state and campus can better serve students in recovery.
"We're going to ask some hard questions," Chappo, who is majoring in addiction studies at Minot State, said. "For example, there are a couple different ways addiction treatment can look. First and foremost, it can look like abstinence, which is a major component. But studies have shown and we've also learned that cutting cold turkey is not necessarily easy, so how can we reduce the damaging effects of drug use to begin with?"
This idea of harm reduction will be just a part of Tuesday's discussion, which is open to all Minot State students. Recovery Reinvented, a creation of North Dakota's first lady, focuses on eliminating the shame and stigma of addiction and finding solutions to help people affected by the disease of addiction with prevention, treatment, and recovery approaches.
The event compliments a recovery group recently launched on campus that meets Fridays at noon in Memorial Hall room 230A.
"It's open to anybody who's in recovery and is a safe space for individuals struggling with addiction," said Chappo. "We know the problem exists, which is why I think the conversation with Kathryn (Burgum) is so vital and important."
Having a public figure honest about past struggles is an important part of destigmatizing addiction and substance abuse.
"It normalizes the conversation. I think having a public figure speaking out and saying this is a real issue bodes so well for the conversation. Not only that, it's a game changer. We have the idea that addiction is a life ender and that's not true," said Chappo. "People recover from addiction and they go on to lead fully productive lives, and we see that with Kathryn (Burgum). She struggled with an issue and it didn't get her down. Hope is possible."
About Minot State University
Minot State University is a public university dedicated to excellence in education, scholarship, and community engagement achieved through rigorous academic experiences, active learning environments, commitment to public service, and a vibrant campus life.
---