Minot State to host International Mother Language Day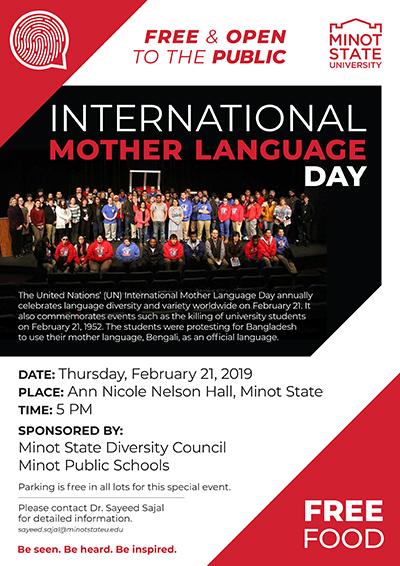 MINOT, N.D. – The Minot State University Diversity Council, along with Minot Public Schools, will host the International Mother Language Day with poetry, song, and other performances Thursday, Feb. 21, beginning at 5 p.m. at Minot State's Ann Nicole Nelson Hall.
The United Nation's (UN) International Mother Language Day annually celebrates language diversity and variety worldwide on Feb. 21. It also commemorates events such as the killing of university students on Feb. 21, 1952. The students were protesting for Bangladesh to use their mother language, Bengali, as an official language.
The event is an immersion and celebration of languages and cultures at MSU, making campus life a more vibrant and richer community with a student body from around the globe.
International Mother Language Day will also feature free food along with the various performances. The event is free and open to the public with free parking in all lots for this special event.
For detailed information, contact Sayeed Sajal via EMAIL.
About Minot State University
Minot State University is a public university dedicated to excellence in education, scholarship, and community engagement achieved through rigorous academic experiences, active learning environments, commitment to public service, and a vibrant campus life.
---