Jastrzembski leads program to host international visitors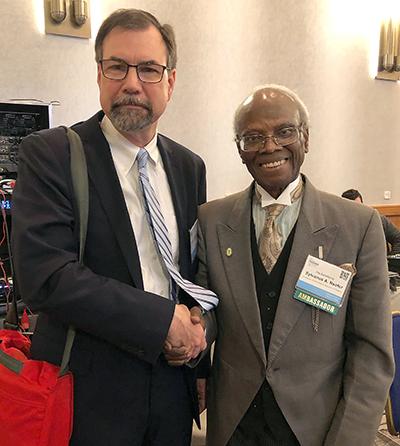 Minot State professor Joseph Jastrembski, left, shakes hands with Nigerian Ambassador, Sylvanus Nsofor.
MINOT, N.D. – Minot State University history professor Joseph Jastrzembski leads a program that broadens the region's knowledge of the world and the world's knowledge of the Magic City.
He is the executive director of a council that is part of the State Department's professional exchange program, the International Visitor Leadership Program (IVLP). The program was launched in 1940 and brings international visitors to the United States.
The Minot Area Council for International Visitors (MACIV) is an all-volunteer program and was nominated for the Excellence in Programming Award at the Global Ties US National Meeting.
"The U.S. has embassies abroad, and these embassies will nominate people within those countries to come to the U.S. on a three-week visit," Jastrzembski said. "The people who are nominated are people that they believe are up and coming leaders within those countries. They could be from any background. They might be in government; they might be in medicine; they might be in business; they might be in journalism."
IVLP has hosted notable guests over the years.
"Lots of current and former heads of state as younger politicians have taken part in it," Jastrzembski said. "Margaret Thatcher, who used to be the prime minister of Britain, was part of it. The president of China was part of it. He visited Wisconsin. We have lots of people who are highly placed today who have gone through this program. The diplomatic corps rates this as probably the most effective foreign policy program we have."
The goal of the visits is for international leaders to witness an accurate picture of what America is like.
"They want visitors to realize that there are a multitude of voices here, that the State Department isn't trying to censor anything, and they aren't trying to manipulate the actual program and its themes. And it's really fascinating because the whole program is really to have these international visitors not only have a chance to learn about issues that are relevant to them back in their own country and to interact with their counterparts here, but it's also to give them a sense of what America is like and all of its diversity," Jastrzembski said. "That's especially crucial if we think these people will later be the future leaders within their own countries, so you want to plant those seeds early on of at least a positive image or a relationship."
International visitors first spend time in Washington D.C., and then go on to three American cities. MACIV's role in IVLP is to create a program for visitors coming to Minot. This program lasts about two days and has a theme depending on the visitor.
"Let us say we're thinking of having a group of African visitors who are from Nigeria, an oil rich country," he said. "Given Minot's area and the Bakken, we could come up with a good program based on energy for them. On an energy program, we might be reaching out to oil companies like Hess. We might be reaching out to the state regulatory agencies to see if they could meet with the visitors. We might be reaching out to environmental groups that are worried about development and fracking. From the industry to the regulatory agencies to the nongovernmental organizations like the Dakota Resource Council, that are worried about some of the effects, to city and state people who are dealing with the strain on social services and educational services. We often take them to the Fort Berthold Reservation which is in part of the Bakken and facing the issues but differently because it's a Native American reservation. We put together a kind of program that hears all those different voices. In it visitors are interacting with all these different actors."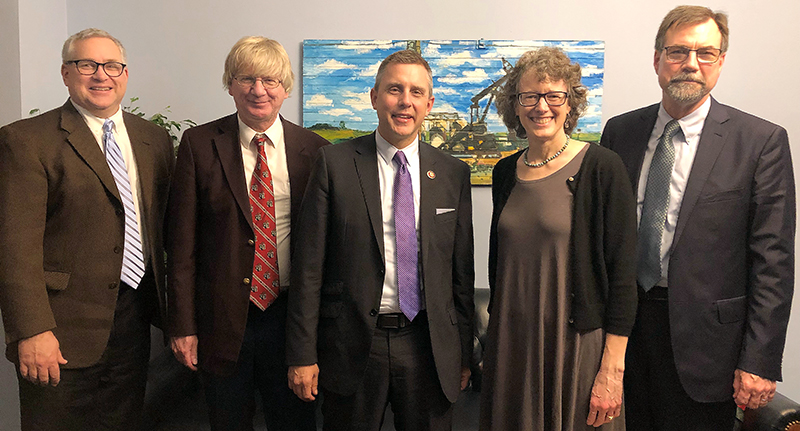 Not all of the program is business meetings though. A part of it is spent in a regular American home.
"One of the aspects of the program is that the State Department wants visitors to have what they call home hospitality," Jastrzembski said. "They want them to have a meal in the home of just regular people, so they have a chance to interact with just regular Americans outside government officials or the media or anything like that — and in America, around the dinner table, people talk about anything,"
Because the program in Minot is all-volunteer, there is more interaction with visitors. In larger cities, the program agency staff is paid and might be in charge of other programs and spend less time with visitors.
"We really like to be with the visitors on every step of the program," Jastrzembski said. "We will travel with them, we'll act as their tour guides in a way, really build up a kind of relationship with them in a short time. It's much more personalized."
The work MACIV has done in designing programs led to Jastrzembski being nominated for the Excellence in Programming Award. He travelled to Washington, D.C. for the award ceremony at the end of January. Jastrzembski said that while he was technically the one nominated for the award because he is the director of MACIV, it is the efforts of the entire group that led to the nomination. While the award went to another program this year, Jastrzembski did win in 2008 and said that being nominated was an honor.
About Minot State University
Minot State University is a public university dedicated to excellence in education, scholarship, and community engagement achieved through rigorous academic experiences, active learning environments, commitment to public service, and a vibrant campus life.
---