ALUM FROM DAY 1: Sophomore Nathan Demme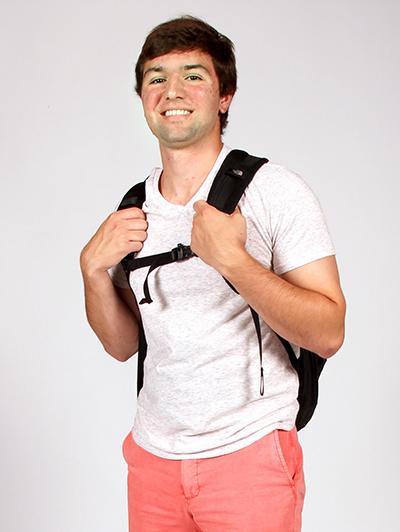 Alum from Day 1: Nathan Demme, Minot, N.D., sophomore, criminal justice major, philosophy minor
Nathan started out as an English major as he has been writing fiction since junior high but switched to criminal justice and is currently applying for the Marine Corps Officer Training Program.
Why did you choose Minot State?
The proximity to family was important and I was able to get a scholarship due to my level of academics in high school. Minot State's size allows me to be more involved.
How has Minot State helped you further your academic career?
After completing my generals, I have a better understanding of what I want to do. I met some CJ students my first year and that helped me figure out what degree I'm going to get. I think I have a better general understanding of the world because of taking those classes.
What is your favorite quote?
"No sacrifice, no victory."  — Optimus Prime
What has been your favorite class?
So far it has been fundamentals of leadership, an honors course with Jessica Smestad that I'm taking this semester. I've grown up around great leaders and believe I should be striving to be a great leader.
Who has been your most influential instructor?
Beth Odahlen. She's been great at challenging me to really take charge of what I'm doing. Through peer
mentoring, I have had to figure out how best to go about my college education and juggle responsibility.
She has taken the time to invest in me.
What is the best kept secret about Minot State?
Either it's you come to enjoy the snow or the home feel of the college. Only took me about half of a
semester to really get to know people.
Alum from Day 1 is a special section that appears in each issue of the Alumni Association and Development Foundation Connections Magazine. Connections features one student from each class and an outstanding faculty/staff member who graduated from Minot State. To view the entire Fall 2018 Connections Magazine online, please click HERE.
About Minot State University
Minot State University is a public university dedicated to excellence in education, scholarship, and community engagement achieved through rigorous academic experiences, active learning environments, commitment to public service, and a vibrant campus life.
---