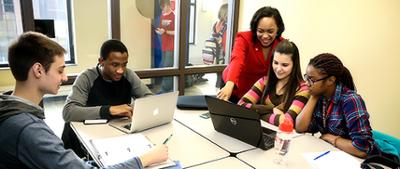 "This is a hands-on, real-world degree that will not only help our current and future business students, but also students from all across campus. Students are required to write a business plan and have a final project that will demonstrate they know how to start and grow a business."
Tracey Mays, Minot State assistant professor of entrepreneurship
University Communications
Entrepreneurship major, minor, and certificate now offered at Minot State
MINOT, N.D. – The Minot State University College of Business has added entrepreneurship as a degree starting in the current Fall 2018 semester. Students will have the opportunity to earn a Bachelor of Science in Entrepreneurship, a minor, or a Certificate in Entrepreneurship.
"This is a hands-on, real-world degree that will not only help our current and future business students, but also students from all across campus," said Tracey Mays, Minot State assistant professor of entrepreneurship. "Students are required to write a business plan and have a final project that will demonstrate they know how to start and grow a business."
Students will engage in activities that focus on product or service development, start-up funding, purchasing and distribution issues, and client-based development. They will complete an entrepreneurial project and develop an entrepreneurial portfolio as part of the curriculum.
"We want to broaden our graduates' possibilities to owning, taking over, or running small businesses or corporations," Mays said. "This degree will add that. There is a breadth of what can be accomplished, not just simply one area."
The degree programs will work with the Severson Entrepreneurship Academy, created in 2010 as a result of a milestone gift to Minot State by Clint Severson and Conni Ahart. Severson Entrepreneurship Academy supports entrepreneurship students with scholarships, an Entrepreneurship Club, and other resources.
"The world needs individuals who are entrepreneurial and creative in their approaches to problem solving," said Minot State Vice President for Academic Affairs Laurie Geller. "This program provides high-quality academic experiences that challenge students and prepare them for the evolving social and technological challenges of the world. Graduates will be empowered with a distinctive combination of professional expertise and broad-based education to start and run their own businesses."
The College of Business is committed to active learning and preparing students for careers in business. Minot State's facilities include the new Slaaten Learning Center which features:
Financial trading lab with stock ticker board
Corporate-style board room with video-conference equipment
Student study lounge
Meeting room for student organizations and groups 
"We did a needs assessment prior to working on developing this major, minor, and certificate to see what our high school students were interested in and what would enhance the degrees for our current college students," Mays said. "We found that an overwhelming number of students wanted an entrepreneurship degree."
For more information on the entrepreneurship degrees offered at Minot State, contact Mays via email at artresa.mays@minotstateu.edu or visit the entrepreneurship degree online at: https://www.minotstateu.edu/enroll/programs/entrepreneurship.shtml.
ABOUT MINOT STATE UNIVERSITY
Minot State University is a public university dedicated to excellence in education, scholarship, and community engagement achieved through rigorous academic experiences, active learning environments, commitment to public service, and a vibrant campus life.
---