Spangler, Richard earn awards at leadership conference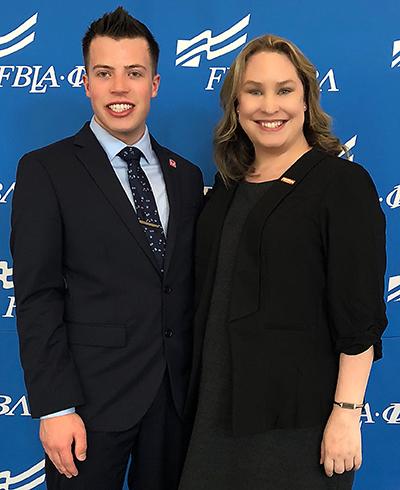 "My involvement with FBLA-PBL, both as MSU chapter Vice President and North Dakota State V.P. of Public Relations, has given me more practical professional tools than any classroom. The real world experience in leadership, conference planning, public speaking, and networking alone are invaluable skills for success."
Jodi Spangler, senior, Minot, N.D.
BALTIMORE, Md. – Two of Minot State University's College of Business students recently walked away with awards from the Future Business Leaders of America – Phi Beta Lambda (FBLA-PBL) 2018 national leadership conference.
Jodi Spangler, a senior from Minot, N.D., placed fifth in Business Ethics while Aaron Richard, a senior from Kasson, Minn., placed ninth in Retail Management at the Baltimore, Maryland, event.
"My involvement with FBLA-PBL, both as MSU chapter Vice President and North Dakota State V.P. of Public Relations, has given me more practical professional tools than any classroom," Spangler said. "The real world experience in leadership, conference planning, public speaking, and networking alone are invaluable skills for success."
Phi Beta Lambda is the collegiate division of Future Business Leaders of America and helps prepare students for careers in business and business-related fields. FBLA-PBL offers academic competitions and leadership development through state and national conferences. The organization's mission is to bring business and education together in a positive working relationship through innovative leadership and career development programs.
"Participation in these competitions allows students to develop real world experience and prepares them for their careers," said Minot State Business Administration Instructor Megan Fixen. "The competition also provides an opportunity for networking with other students and business professionals."
Fixen and MSU Business Administration Professor Gary Ross serve as advisors for the Minot State University chapter of Phi Beta Lambda.
About Minot State University
Minot State University is a public university dedicated to excellence in education, scholarship, and community engagement achieved through rigorous academic experiences, active learning environments, commitment to public service, and a vibrant campus life.
---