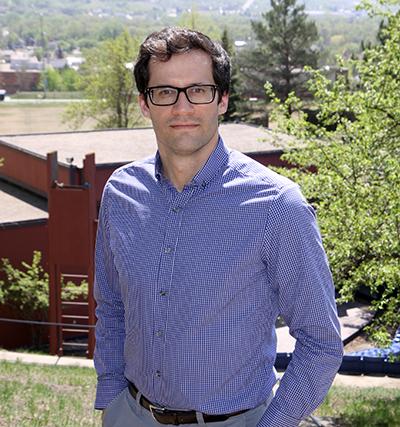 "I think education is important and have always felt that way. I didn't start college with the intent to not finish, but life kind of threw me a curve ball. When I decided to go back, I didn't like the idea of not finishing something I started. I cringe when I hear people say if you stop you will never go back. I guess I wanted to prove that thinking wrong."
Dan Fagan, senior, finance
University Communications
Senior Spotlight: Dan Fagan
All MSU is Fagan's stage
MINOT, N.D. – You might know Minot State University senior Dan Fagan from his major, sharing a class or a study group over the past two years as he earned his degree in finance.
Some might know him from the stages at Aleshire Theatre, Black Box Theatre, or MSU's Summer Theatre.
Still others might know him from his work with University Communications, writing press releases and feature stories promoting MSU.
You might even have caught a glimpse of him in a commercial for Moosehead Beer, the Comedy Central hit sketch duo Key & Peele, or the television series Blood Relatives. Heck, if you were in Argentina in 2010, he might have served you a drink.
To say the older-than-average student has lived an interesting life already is an understatement.
But as he finishes up his degree in finance and readies for the next stage in his life, his degree at Minot State became an even more important milestone.
"I think education is important and have always felt that way. I didn't start college with the intent to not finish, but life kind of threw me a curve ball," he said. "When I decided to go back, I didn't like the idea of not finishing something I started. I cringe when I hear people say if you stop you will never go back. I guess I wanted to prove that thinking wrong."
Fagan, a native of Cody, Wyo., started his college career in 2006 at Cosumnes River College in Sacramento, Calif., and passed up a couple chances to go to a four-year school right after to pursue acting. After spending 90 days in Argentina on what he calls, "a whim," he started the quintessential life as a young aspiring actor.
"I decided to give that (acting) my all. I applied to a couple (Los Angeles) college theatre programs, but figured I would just start doing it instead of going to school for it. I started in Sacramento, it was familiar to me, I was cast in a show and had an opportunity to do an apprenticeship at an equity theatre that Timothy Busfield started. That was my beginning.
"That love for theatre goes back to when I was a kid, there weren't a lot of opportunities for that in Cody, but I went to a community college production of Robin Hood and I loved it."
His career quickly took off doing commercials in the San Francisco and he made the jump to Hollywood – at least in location.
"I had an agent in Sacramento and I was booking a lot of stuff and my agent said you should consider LA – that's the big leagues," he said. "I had a girlfriend who was an actor and we both moved to LA. I didn't even have a chance to get settled in before I earned a part in a show in New York, so I was off to do that."
He twice acted in New York, earned a role in Blood Relatives – a series on the Investigation Discovery Network – and the movie Stolen Moments, and continued to do commercials in LA and Sacramento before deciding that he wasn't destined for the red carpet.
"I had just moved back from New York for the second show and got back to LA. The girlfriend and I had broken up, I didn't have an apartment anymore and was living with friends. I moved back to Sacramento for an eight-month show where I was living on a friend's couch with four cats," Fagan said. "It was a fulfilling career creatively, but I just wasn't 'making it.' It's such a grind and a struggle and I knew it was time to take a step back from that life."
In stepped Minot State – at least eventually.
While Fagan knew he wanted to continue his schooling, he originally figured it would be at one of the California four-year schools. During the decision-making process, he visited with his mother who had moved to Parshall, N.D. She suggested he look into MSU.
"I was a California resident at that point and figured I would go to UCLA or UC Davis," he said. "But after doing some research, my mom said I should look at Minot State. I noticed there was instate tuition for all and realized I could be done in two years. I had missed the application deadline in California and got accepted at Minot State. I took that as a sign it was the right place for me."
While he didn't visit the campus prior to enrolling – he hadn't visited North Dakota prior to enrolling – he hit the ground running. But it was through the theatre department.
"I felt like I had done enough theatre, I didn't need to study it," he said. "Finance, to me, has a lot of utility, you can do a lot with it. I remember the 2008 financial crisis very clearly and was fascinated by all the factors. It's interesting to me. You can't escape finance and I wanted to be able to understand the industry."
He also applied and was hired to work in the then-called Public Information Office by PIO director Alysia Huck. After Huck left the university for another position and long-time assistant Linda Benson retired, he found himself as the sole communication's officer for a short time.
"It's really in my wheelhouse, I've enjoyed my time in the communications office," Fagan said. "The job appealed to me because I had done some writing, I wrote some plays, and enjoyed that aspect of it. I'm really looking for a career that marries finance and communications, investor relations, corporate communication, something like that."
But something was still missing - the stage.
"I came to North Dakota to never act again, but then after about a semester, I just missed it," he said. "I saw an audition notice and just wanted to be on stage for five minutes, read the side, and get it out of my system. They offered me a part in 'The Shape of Things' and I kept doing it.
"It's a nice program here at Minot State because it is open to anyone on campus and because it is a small department you can do or try anything you want, write, direct, act, the 10-minute plays, and the tech side. I never really got into that as an actor, but things like lighting are aspects you can do here."
Fagan received recognition for playwriting at Region 5 Kennedy Center American Theatre Festival in Des Moines, Iowa, in January. Fagan's 10-minute play, "Meanwhile in the Rust Belt," was one of three finalists that received a staged reading, and his full-length play, "These Lonesome Roads," was chosen as a regional finalist and submitted for national competition. Fagan and his scene partner J'Kobe Wallace advanced to the semi-final round of the Irene Ryan acting competition.
"That was really awesome," he said of the festival. "I don't know if I will go back to acting for a while, maybe not again, but I know I will keep writing. I can go anywhere and have any job and do that. Just me and my pencil, that will be my connection to the theatre community."  
ABOUT MINOT STATE UNIVERSITY
Minot State University is a public university dedicated to excellence in education, scholarship, and community engagement achieved through rigorous academic experiences, active learning environments, commitment to public service, and a vibrant campus life.
---