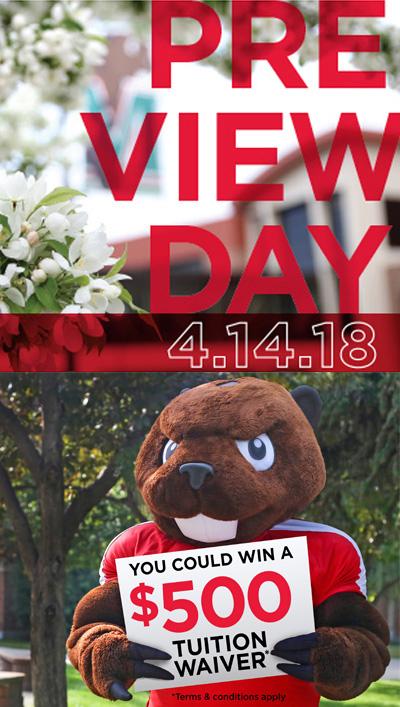 University Communications
Spring Preview Day set for April 14
MINOT, N.D. – Minot State University's Spring Preview Day is set for April 14, starting at 9 a.m., with check-in in front of Ann Nicole Nelson Hall in Old Main.
Preview Day is set up to give prospective students and their families a first-hand look into life as a Minot State student with mock classes, resource fair, a student panel and an optional tour.
"Spring Preview Day is great opportunity for high school students and transfers to get a glimpse at what it is like to be a Minot State student," MSU admissions counselor Heather Halverson said. "Plus, accepted seniors can get a jump start on their class schedule for fall as they will be able to sign up for their fall First-Year Experience classes."
The event starts with check-in at 9 a.m. The Student Panel is scheduled for 9:15 a.m. First Year Experience Mock Classes are from 9:45 to 11:15 a.m. Minot State's Resource Fair and Lunch is slated for 11:45 a.m. to 12:30 p.m. and the Optional Tour will begin at 12:30 p.m.
There are two special classes students will join during Spring Preview Day including Photography and Yoga: The Art of Seeing and Being by Karina Stander and Making a Murder by Melissa Spelchen.
Along with the events planned, students can enter to win a $500 tuition waiver and can participate in the Build-a-Beaver Workshop while learning about MSU Life events and clubs.
For more information or to register, log on to MSU Preview Day's website at http://www.minotstateu.edu/enroll/landing_pages/preview-18.shtml.
ABOUT MINOT STATE UNIVERSITY
Minot State University is a public university dedicated to excellence in education, scholarship, and community engagement achieved through rigorous academic experiences, active learning environments, commitment to public service, and a vibrant campus life.
---