MSU offers new graduate certificate in cybersecurity management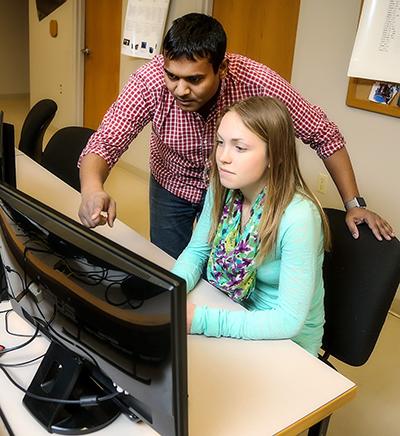 "The ability to prove knowledge in cybersecurity through certification can increase a potential candidates chance for hire. A professional certification shows employee competence and commitment within the field. A combination of experience and certification will carry the most weight on an application but certification will definitely improve a candidate's chances for job placement compared to an individual with only a bachelor's degree with little or no experience."
Chad Fenner, MSU business information technology instructor
MINOT, N.D. – Minot State University is now offering a graduate certificate in cybersecurity management for individuals looking to gain advanced knowledge and advance their careers.
"The ability to prove knowledge in cybersecurity through certification can increase a potential candidates chance for hire," MSU business information technology instructor Chad Fenner said. "A professional certification shows employee competence and commitment within the field. A combination of experience and certification will carry the most weight on an application but certification will definitely improve a candidate's chances for job placement compared to an individual with only a bachelor's degree with little or no experience."
According to the Bureau of Labor Statistics, information assurance and cybersecurity management jobs are growing faster than average occupational growth and the typical median pay is $92,600 per year.
"As of 2017, there are over one million job opportunities in the field of cybersecurity and just as many in the area of security auditing," Fenner said. "These numbers are expected to increase over the next five years and could approach six million jobs globally by 2019."
The cybersecurity management certificate consists of three graduate level classes (BIT 560 Management and Integration of IS Function, BIT 557 Foundations of Information Assurance and Security, and BIT 575 Business Network Systems Management.) Courses are eight weeks in length.
Anyone may apply for the graduate certificate by submitting an official transcript indicating a completed bachelor's degree, and have a minimum GPA of 2.75. 
For more information, contact Lori Willoughby, chair of business information technology, at lori.willoughby@minotstateu.edu or logon to MinotStateU.edu/graduate.
About Minot State University
Minot State University is a public university dedicated to excellence in education, scholarship, and community engagement achieved through rigorous academic experiences, active learning environments, commitment to public service, and a vibrant campus life.
---