Minot State to offer free meningococcal B vaccine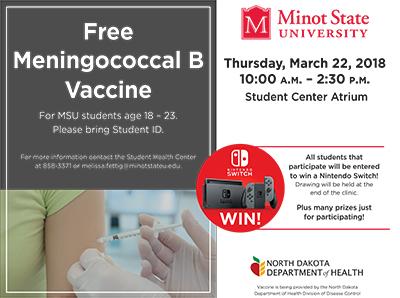 MINOT, N.D. – Minot State University, the North Dakota Department of Health, and the First District Health Unit have partnered to offer a free meningococcal B vaccine for MSU students ages 18-23.
The free clinic is set for Thursday, March 22, from 10 a.m. to 2:30 p.m. in the MSU Student Center Atrium (first floor of the Student Center). The clinic was originally scheduled for March 6, but was postponed due to weather conditions in and around Minot.
The clinic will also be used by MSU, the N.D. Department of Health, First District Health Unit, and the North Dakota University System as a meningococcal B outbreak exercise along with protecting students from a meningococcal Group B disease. The vaccine is being provided by the North Dakota Department of Health Division of Disease Control.
"We are pleased to be able to partner with the N.D. Department of Health and First District Health Unit to provide this protection for Minot State University students," MSU Student Health Center director Melissa Fettig said. "It is also important to be able to assess our ability to adequately administer a vaccine in the case of an outbreak and to help North Dakota colleges and universities prepare for infectious disease outbreaks if it were to occur on their campuses."
Students who wish to get the vaccine need to bring their student ID to the clinic. All students that participate will be entered to win a Nintendo Switch given out at the end of the clinic and multiple prizes and giveaways are planned for the clinic.
Meningococcal B vaccine is different than the meningococcal vaccine that is required to enroll at Minot State. Meningococcal B vaccine is recommended to all people ages 16-23 to protect from meningococcal Group B disease, also known as MenB. While outbreaks are rare, they are extremely serious; several college campuses across the United State have dealt with the disease in the last 10 years.
About Minot State University
Minot State University is a public university dedicated to excellence in education, scholarship, and community engagement achieved through rigorous academic experiences, active learning environments, commitment to public service, and a vibrant campus life.
---