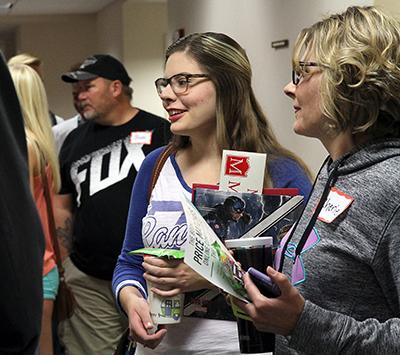 "Red & Green Days are a great time for prospective students and their families to make their own schedules during the open house. They will have the flexibility to take a tour of campus and meet with specific departs that they are interested in anytime from 9 a.m. to Noon."
Kyle Patterson, MSU admission counselor
University Communications
Minot State offers two Red & Green Day open houses
MINOT, N.D. – Minot State University Enrollment Services will host two Red and Green Days open houses, featuring the College of Education and Health Sciences in January and the College of Business in February.
"Red & Green Days are a great time for prospective students and their families to make their own schedules during the open house," said Kyle Patterson, MSU admission counselor. "They will have the flexibility to take a tour of campus and meet with specific departs that they are interested in anytime from 9 a.m. to Noon."
At each event, prospective students can customize the day to fit their schedule. Individuals can choose to go to the Student Services Resource Fair to visit with financial aid, veteran's services, honors and more; visit with a faculty member in their area of interest as well as tour their departments; visit with an admissions counselor; take a customized express tour of Minot State, see residence halls, and check out the MSU Wellness Center, or any combination of each.
The Red and Green Day open house featuring the College of Education and Health Sciences is scheduled for Saturday, Jan. 20 from 9 a.m. to Noon. The event will showcase students and faculty in a relaxed environment to answer questions within the following majors: addiction studies, athletic training, communication disorders, corporate fitness, nursing, psychology, social work, special education including intellectual/developmental disabilities and interpreting and sign language studies, and teacher education featuring early childhood education, elementary education, or physical education.
The Feb. 10 Red and Green Day open house is also from 9 a.m. to Noon and will feature the College of business. Faculty and students will be on hand to answer questions from these majors: accounting, applied business information technology, business education, energy economics and finance, finance, international business, management, management information systems, and marketing.
To register for either event and to receive email reminders, please log on to MinotStateU.edu. Walk-ins, however, are welcome on the day of each.
Prospective students and families are asked to park in the Student Center parking lot marked Lots A, C, and Unreserved. Individuals will start their day just inside the east entrance to the Student Center.
ABOUT MINOT STATE UNIVERSITY
Minot State University is a public university dedicated to excellence in education, scholarship, and community engagement achieved through rigorous academic experiences, active learning environments, commitment to public service, and a vibrant campus life.
---