Hoff to coach at Paralympic Winter Games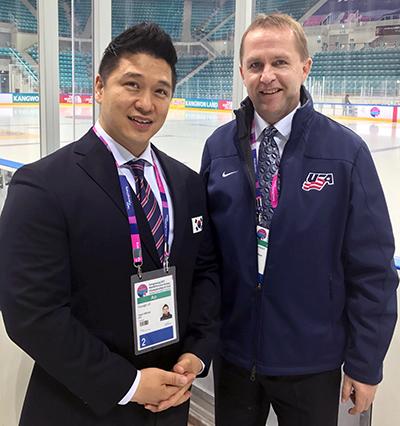 "I've been involved with USA Hockey for the last 18-20 years on the coaching education side with clinics and youth hockey. I started to work at a summer camp eight years ago because I felt working with individuals with disabilities would be good for me as a teacher. It really stuck with me."
David Hoff, Minot State Alumnus, Team USA Sled Hockey Coach
BOTTINEAU, N.D. – The path from high school teacher and hockey coach to Olympic coach was as much chance as anything for David Hoff.
He was simply trying to find a way to expand his skill set as a teacher.
"I've been involved with USA Hockey for the last 18-20 years on the coaching education side with clinics and youth hockey," Hoff said. "I started to work at a summer camp eight years ago because I felt working with individuals with disabilities would be good for me as a teacher. It really stuck with me."
Hoff, a 1990 graduate from Minot State who teaches high school math and coaches hockey at Bottineau High School, continued to rise through the ranks with USA Hockey, working its annual evaluation camps each summer. On Jan. 1 of this year, he was named as a bench coach to help represent the United States at the 2018 Paralympic Winter Games March 9-18 in PyeongChang, South Korea.
"(USA Hockey) called me and said there was an opening and asked if I could go," he said. "I'm a classroom teacher – the school part of it is the biggest challenge – but the school have done its best to make it work.
"The support I've received really starts with my wife and step children. I'm not around all the time, but they've been able to travel with me a couple times, and it has been a valuable experience for them as well. We've really come to like sled hockey."
The evaluation camp identifies individuals who are at an elite level in sled hockey, with athletes ranging from 13 to 35 years old. Many of the camp attendees are former military personnel, adding even more perspective for Hoff.
"It has been such an outstanding learning experience for me," he said. "The knowledge of war for me is what we see on TV. But there is a lot of down time working at the camp and you get a chance to really hear their stories, it has given me a different perspective on how truly fortunate most of us really are."
The training camp also gave Hoff the chance to work with Jeff Sauer. Sauer was the longtime head coach at the University of Wisconsin, winning two national championships with the Badgers and helped Team USA to gold medals in sled hockey at the 2010 and 2014 Winter games.
Unfortunately, Sauer died in 2017 from pancreatic cancer. But, for Hoff, the time spent with the legendary coach was special.
"I got to work with him for just 15 months," he said. "Working with him at the camp was some of my favorite times."
This won't be the first time he has traveled with Team USA to South Korea, however. Hoff made the trip last April to Gangneugn, South Korea, for the 2017 Para Sled Hockey World Championships, helping the team to the silver medal, reaching the gold medal game for the fifth straight time.
"We got to go last year with the world championships as a sort of practice for security, food service, etc., for the Olympics," Hoff said. "We had a big military presence with us all the time because of the former military guys on the team. We got to go to the embassy. We were treated really well during the entire trip."
The team is currently training in Chicago leading up to the Winter games. Hoff, along with Team USA Director of Sled Hockey Dan Brennan and Team USA head coach Guy Gosselin, have joined in workouts. Team USA became the first nation to claim back-to-back Paralympic gold medals in sled hockey when it defeated Russia, 1-0, in the gold-medal game in Sochi in 2014.
Along with hoping to bring a gold medal back to the United States, Hoff hopes to continue to grow the sport in North Dakota.
"Over the eight years working with disabled athletes, I've tried to promote sled hockey in the state and we are seeing more and more opportunities for disabled athletes in hockey in Minot, Bismarck, and Fargo," he said. "It has been great to see it grow."
About Minot State University
Minot State University is a public university dedicated to excellence in education, scholarship, and community engagement achieved through rigorous academic experiences, active learning environments, commitment to public service, and a vibrant campus life.
---