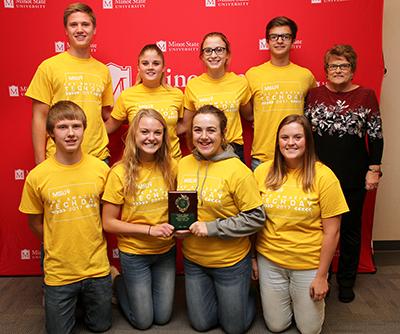 Sweepstakes Team Award: Underwood High School. Pictured L to R: Front row (l to r) Mason Hornberger, Mackenzie Snyder, Sage Longtin, Kaylie Wilson. Back row (l to r): Kaden Hornberger, Kaylie Wilson, Callie Berg, Bo Weisenberger, Instructor Julie Driessen.
University Communications
Area students excel at MSU Tech Day
MINOT, N.D. – The 20th annual installment of Minot State University Technology Day brought students from across the region to the MSU campus for a day-long event filled with competitions.
Technology Day showcases MSU business education students and area secondary business students as they compete in various business and technology related competitions. 
Individual testing in Accounting, Business Communication, Business Law, Desktop Publishing, Document Production, Introduction to Business, Presentation Software, and Spreadsheet started the morning session. The Amazing Tech Day Race and a pizza and ice cream lunch/awards presentation followed.
The following is individual winners in each category.
Accounting
1st place: Travis Dean, Stanley
2nd place: Mackenzie Snyder, Underwood
3rd place: Tristan Schettler, Berthold
Business Communication
1st place: Hunter Fuchs, Surrey
2nd place: Asha Valliere, Tioga
3rd place: Bailey Block, South Prairie
Business Law
1st place: Sage Longtin, Underwood                           
2nd place: Chase Brodehl, TGU Granville
3rd place: Lyvia Roark, Berthold         
Desktop Publishing
1st place: Mya Knecht, DesLacs Burlington
2nd place: Samantha Weddell, South Prairie
3rd place: Esmeralda Gomez, Stanley
Document Production
1st place: Kayden Hornberger, Underwood
2nd place: Kayleen Kihle, Burke Central
3rd place: Bo Thingvold, Bowbells
Introduction to Business
1st place: Kayden Hornberger, Underwood
2nd place: Karmen Miller, Surrey
3rd place: Jordan Rodin, Kenmare
Presentation Software
1st place: Alex Bly, Burke Central
2nd place: Grace Bachmeier, TGU-Granville
3rd place: Braydan Winzenburg, Kenmare
Spreadsheet
1st place: Brittney Kuklis, Burke Central
2nd place: Chloe Gunderson, Des Lacs Burlington
3rd place: Jericho Limke, Berthold
Schools who participated included Berthold, Bowbells, Burke Central, Des Lacs-Burlington, Kenmare, Powers Lake, South Prairie, Stanley, Surrey, TGU-Granville, TGU-Towner, Tioga, Underwood, and Westhope. Underwood took home the sweepstakes trophy, accumulating the most placements in all competitions.
"Technology Day is an excellent event to showcase area high school students in their business and technology skills. This year, 14 schools are competing," said Jan Repnow, business information technology assistant professor. "This event also showcases our business teacher-education students as they plan, organize and manage all aspects of this competition in preparation for their upcoming teaching careers."
All events are supervised by BIT faculty and business teach education students. Repnow, Business Teacher Education Coordinator and MSU business education students Megan Druse, Laurie Klein, Alex Westman, Kaylee Rodman, Kyla Grandy, and Kaitlin Walker coordinated the event.  The event was sponsored by the Business Information Technology Department.
Technology Day corporate sponsors included SRT Communications, Grand Hotel, Peoples State Bank, First International Bank and Trust, First Western Bank and Trust, United Community Bank, Vibeto Orthodontics, Bremer Bank, and The Computer Store.
The event would also like to acknowledge All American Trophy, Lowe's Printing, Tom and Anita Seymour for the Tech Day Scholarship, members of the BIT Department, and Business Education Students.
ABOUT MINOT STATE UNIVERSITY
Minot State University is a public university dedicated to excellence in education, scholarship, and community engagement achieved through rigorous academic experiences, active learning environments, commitment to public service, and a vibrant campus life.
---