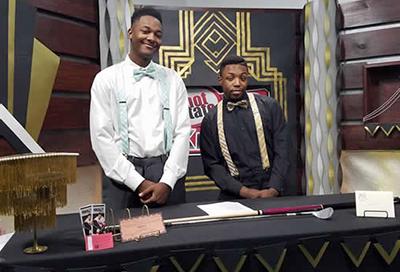 University Communications
KMSU Auction returns for its 19th year
MINOT, N.D. – The Minot State University Broadcasting Department will host the 19th annual KMSU Auction on Thursday, Nov. 30, starting at 6:30 p.m.
The event, which raises money for the broadcasting department and a local charity, will air live on MidCo and SRT Channel 19. The multi-hour, telethon-style auction has 55 packages set for auction with MSU event passes, gift cards, gift baskets, memberships, and more. Packages vary in total value from $250 to over $2,000.
KMSU promotes local businesses through various media in exchange for donations and then organizes them into packages. Viewers can call to place bids on air during the allotted time, with the highest bid winning the package. Bids can be phoned in during the show by calling (701) 858-4019.
The entire show is planned, organized, and promoted by MSU students.
"The KMSU auction is a wonderful opportunity for students to get real world experience," said Janna McKechnie, KMSU Auction advisor. "This is their project from start to finish. They gather donations, plan promotions, work on advertising the event, and run the live televised event itself. Every year I am amazed at the dedication and talent these student possess."
The auction was first designed as a way to raise funds for the broadcasting department and was planned as a one-year event. However, due to positive feedback from inaugural auction, it has been an annual tradition. Students in the broadcasting department apply their studies of broadcast production, public relations, and advertising for the event.
In 2011, the KMSU auction donated 100 percent of the profits toward recovery efforts in the Minot community following the Souris River flood. The 2011 event earned a record profit of $28,000.
This year, the KMSU Auction will donate 10 percent of proceeds to the Magic City Discovery Center.
For more information, contact McKechnie at janna.mckechnie@minotstateu.edu or visit the auction website at www.kmsuauction.com/. Prize packages can be viewed online at kmsuauction.com/packages_01.shtml.
ABOUT MINOT STATE UNIVERSITY
Minot State University is a public university dedicated to excellence in education, scholarship, and community engagement achieved through rigorous academic experiences, active learning environments, commitment to public service, and a vibrant campus life.
---