Linda Benson recognized as staff emeritus at Minot State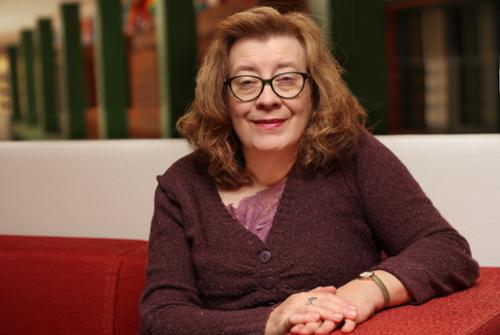 Linda Benson, public information specialist, retired May 31 after 34 years of service to Minot State University. Benson is the first staff member to be awarded staff emeritus by MSU President Steven Shirley.
The Douglas native's engagement on campus started as a student, when she was a writer and eventual editor of the Red & Green student newspaper. As a student, she received recognition in the Who's Who Among American Colleges and Universities. Her membership in the Beta Theta Sorority also offered many opportunities to be involved in campus activities. She received two bachelor's degrees in accounting and management in 1983. She later added a history major, while working full time. When the College of Business launched its Master of Science in management program, she enrolled and completed a master's degree in 2000.
Benson's 34 years of service to the university include work in the Student Loan Collection Department, the Business Office and in the Public Information Office. Her daily announcements and "Inside," MSU's newsletter, kept the campus in touch with relevant news. Her news releases informed the community, state and region about the good work of MSU students, faculty and staff.
On campus, Benson demonstrated her leadership abilities through service in the Staff Senate, including four terms as its president and numerous times as secretary and vice president, and service as a charter member of State Staff Senate. She is also a charter member and past president of the North Dakota Center for Persons with Disabilities Advisory Council. In 2009, she received the Board of Regents Staff Achievement Award. She helped revive the Beta Theta Sorority in 2013, and she has been its alumnae advisor since 2014. In addition, she was a Women's Heritage Month Committee member.
In the community, Benson belongs to Minot Eagle Auxiliary #2376, where she has advanced through most of the chairs and served as president multiple times. Currently, she serves as a Dakota State Auxiliary trustee, and in 2016, she was inducted into the Dakota State Eagles Auxiliary Hall of Fame, the highest award given by the Dakota State Auxiliary of the Fraternal Order of Eagles. For more than 20 years, she has judged at the Ward County 4H Achievement Days. She also belongs to Sons of Norway Thor Lodge and the Women of the Moose.
For questions, contact Benson at linda.benson@minotstateu.edu.


About Minot State University
Minot State University is a public university dedicated to excellence in education, scholarship, and community engagement achieved through rigorous academic experiences, active learning environments, commitment to public service, and a vibrant campus life.
---