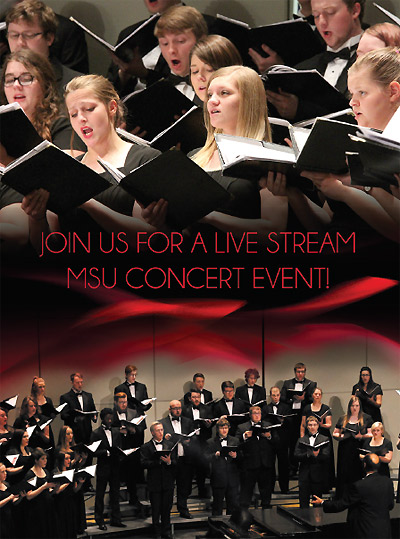 University Communications
MSU choirs present the concert 'Transcendental'
Minot State University Women's Chorus, MSU Concert Choir, and the newly formed Arts Crossing Ensemble will perform a choir concert this Sunday (April 30) in Ann Nicole Nelson Hall at 7:30 p.m. The ensembles will perform a number of pieces around the theme "Transcendental," including sacred and secular compositions from various periods of music history.
"The MSU Concert Choir has recently traveled around North Dakota, and it has exponentially grown in quality," Vieira said. "The MSU Women's Choir is producing an enormous sonority, or resonance, that is surprising for a group of only nine singers."
For the first time, the concert will be live-streamed from the MSU homepage to showcase the students' talents for their families who live out of state, in South Dakota, Montana, Virginia, California and elsewhere.
"MSU is proud to bring to the community some of the results of a very productive year of training and work," Vieira said. "We are proud to offer to our community one of the most successful choral music events in North Dakota and the region."
The concert is free and open to the public. For questions, contact Carlos Vieira, music assistant professor, at carlos.vieira@minotstateu.edu.


---