Minot State University Technology Day winners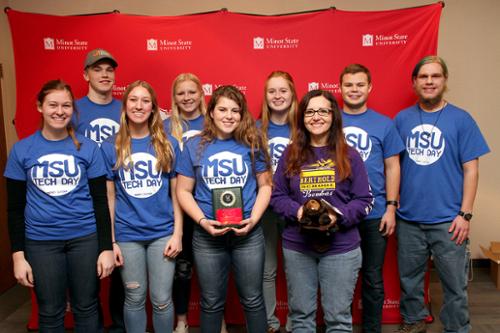 Students from 15 area high schools competed Feb. 15 at the MSU Department of Business Information Technology's 19th annual Tech Day.
Accounting:       
3rd place—Sara Nelson, Bowbells
2nd place—Bradon Peterson, Burke Central
1st place—Shay Miller, Surrey
Business Communication:
3rd place—Jasmin Johnson, Berthold
2nd place—Travis Dean, Stanley
1st place—Eden Johannes, Underwood
Business Law:
3rd place—Ashlee Bower, Surrey
2nd place—Mackenzie Snyder      
1st place—Garrett Hanson, Berthold
Desktop Publishing:
3rd place—Lexi Vandegraft, Bowbells
2nd place—Jannah Mary Macasaet, Tioga
1st place—Haylee Jones, TGU-Towner
Document Production:
3rd place—Mason Hornberger, Underwood
2nd place—Brittney Kuklis, Burke Central
1st place—Devin Ott, Kenmare
Introduction to Business:              
3rd place—Rebecca Kubler, Surrey
2nd place—Dax Nelson, Burke Central
1st place—Lexi Mahlum, Bowbells
Presentation Software:
3rd place—Ethan Bakken, Burke Central
2nd place—Taryn Schmit, Bowbells
1st place—Roman Knudsvig, Berthold
Spreadsheet:
3rd place—Justin VanBerkom, Powers Lake
2nd place—Chris Francis, Stanley
1st place—Tristan Schettler, Berthold
Sweepstakes Team Award 
School: Berthold High School 
Instructor:  Dawn Eide
Students:        
Emily Neshem
Jasmin Johnson
Garrett Hanson
Emolee Lindahl
Abby Simons
Erika Neshem
Roman Knudsvig
Tristan Schettler
Jan Repnow, business teacher education coordinator and Minot State University business education students Alex Westman, Kaylee Rodman, Krista Savage, Kyla Grandy and Kaitlin Grandy coordinated the event. The Business Information Technology Department sponsored the event. Vern Dosch, president and chief executive officer of National Information Solutions Cooperative, was the featured speaker. 
Berthold High School won the Sweepstakes Team Award. Its team is pictured with the back row, left to right, of Garrett Hanson, Abby Simons, Jasmin Johnson, Roman Knudsvig and Tristan Schettler. The front row, left to right, includes Emily Neshem, Erika Neshem and Emolee Lindahl, and their instructor Dawn Eide.

The corporate sponsorships included SRT Communications, Grand Hotel, First Western Bank and Trust, CompuTech, Town and Country Credit Union, First International Bank and Trust, The Computer Store, and Bremer Bank.


About Minot State University
Minot State University is a public university dedicated to excellence in education, scholarship, and community engagement achieved through rigorous academic experiences, active learning environments, commitment to public service, and a vibrant campus life.
---