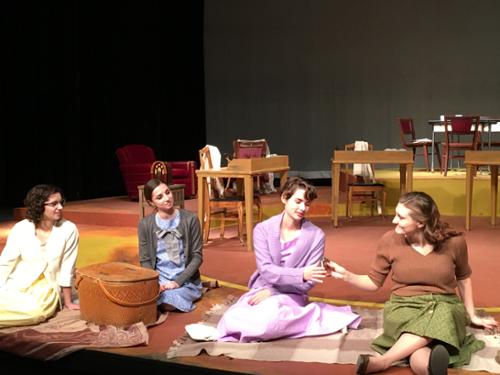 University Communications
MSU theatre arts presents 'These Shining Lives'
Minot State University's Program of Theatre Arts Program presents Melanie Marnich's "These Shining Lives" in Aleshire Theater Feb. 24-27 at 7:30 p.m. Doors will open 30 minutes prior to show time.
Kevin Neuharth, theatre arts professor, directs this emotionally provocative social drama based on the real life story of four women employed by the Radium Dial Company in the 1920s. In an era when women were a novelty in the workplace, the Radium Dial Company of Ottawa, Ill., employed young women to meticulously paint glow-in-the-dark markers of time for watches and clocks. Their fine brushes, drawn to their lips, were then rolled to a fine point and dipped in the radium-based glow-in-the-dark paint over and over. With each new brush stroke, and each new point made with their lips, they were robbed of countless years of their lives, all the while reassured that radium was perfectly safe, even medically beneficial.
"We can't forget how this 'great job' affected personal relationships, family relationships and the way large companies do business," Neuharth said. "We are still living in a world where we ask the same questions, 'How much did they know?' and 'When did they know it?'"
Through laughter and tears, "These Shining Lives," relates the very real struggle of these four women, while illuminating the dark side of corporate greed and its contemptible disregard for human life. At the same time, the dynamic relationships of the young women are celebrated.
Tickets are $10 for adults, $5 for seniors and students under 18. Admission is free for MSU students, faculty and staff with current MSU ID. Reservations are strongly recommended. Contact the Aleshire Theater box office for reservations at 858-3227. For questions, contact Neuharth at kevin.neuharth@minotstateu.edu.


---