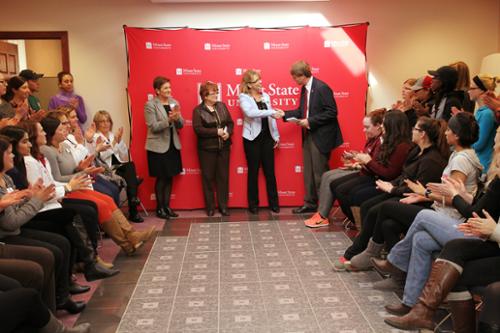 University Communications
Trinity-MSU partnership increases number of nursing graduates
An unqualified success.  That's how Trinity Health and Minot State University officials describe a program aimed at generating more baccalaureate degree nurses for North Dakota's future.
In 2011, Trinity Health committed $1 million over a five-year period to expand enrollment capacity in MSU's Department of Nursing and increase opportunities for nurses to obtain their Bachelor of Science in Nursing (BSN) degree.  With the fifth and final payment presented, Trinity and MSU officials are taking stock of the initiative, calling it a clear winner.
"This generous donation, coupled with our own resources, enabled our Department of Nursing to significantly increase the number of nursing graduates," said Dr. Niki Roed, chair of the Department of Nursing at MSU.  "This partnership has helped MSU increase its nursing graduates by roughly 50 percent."
MSU utilized the $200,000 per year to help fund three full-time positions, including two nursing faculty positions and an administrative assistant to help manage the surge of students.   
Trinity Health Vice President and Chief Nursing Officer Karen Zimmerman, RN, MSN, said Trinity also benefitted from the investment by ensuring a more robust pool of nursing graduates from which to recruit.  "It's been an honor to partner with Minot State University," she said.  "By working together we've set up an effective strategy to meet the demand for nurses in our region and provide students an opportunity to receive their education at MSU, which has an outstanding reputation for graduating caring, proficient nurses."
The five-year initiative has been just one of the ways Trinity and MSU have collaborated through the years. Trinity Health provides a wide variety of clinical experience for student nurses, a critical component of nursing education.  MSU Nursing Faculty collaborate with nursing staff and leaders at Trinity Health to provide excellent learning opportunities and experiences.   In addition, Trinity's own Nursing Scholarship Program for employees affords staff with LPN and associate certificates a chance to pursue their BSN degrees.
"This has been a terrific collaborative effort, and these graduates will be well prepared to lead the next generation of nursing professionals." said Dr. Steven Shirley, president of Minot State University.  "We look forward to further possibilities of partnering with Trinity Health on additional initiatives to benefit our students as well as the health needs of our region."
A 2010 Institute of Medicine report on the future of nursing recommends that 80 percent of the nurse workforce be educated at the baccalaureate level by 2020. 
---