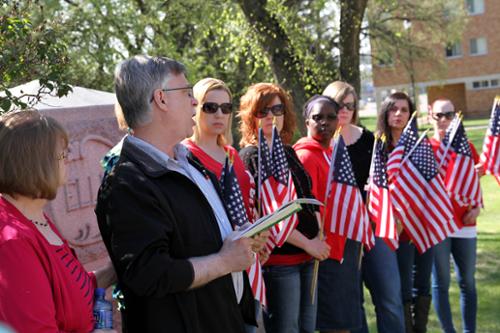 University Communications
Fallen heroes honored by MSU Veterans Center
The MSU Veterans Center honored veterans May 22 with a search-and-discover-fallen-heroes mission on the Minot State University campus and in First Lutheran Church Cemetery. The MSU Veterans Center, Minot American Legion Post 26 and the Minot American Legion Auxiliary Unit 26 developed questions on service members interned in three Minot cemeteries, First Lutheran Church Cemetery, Rosehill Cemetery and Sunset Memorial Garden.
"If people would like to pay tribute to our area veterans this Memorial Day weekend, here is an opportunity for families and individuals to learn more about those who served in the U.S. Armed Forces to help preserve the freedoms we enjoy today," said Andy Heitkamp, MSU Veterans Center director.   
The MSU event was followed by a brief program near the flag poles in front of the Student Center.
The second search-and-discover-fallen-heroes mission is Memorial Day (May 25) at 8 a.m. at the Eighth Street Bridge, following a presentation by American Legion Post 26. The third opportunity will follow a presentation at Rosehill Cemetery on Memorial Day (May 25) at 10:30 a.m.
Those unable to attend one of the events may conduct their own search-and-discover mission by going to the MSU Veterans Center webpage, http://www.minotstateu.edu/veterans, or to the American Legion Post 26 webpage, http://nd.minotlegion.org. Click the "Search and Discover Mission" link. The instructions on how to conduct a search-and-discover mission along with the answers to the questions about fallen heroes will be listed. For questions, contact Heitkamp at andy.heitkamp@minotstateu.edu.


---