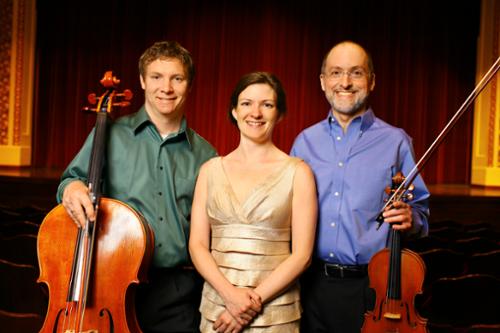 University Communications
Dakota Chamber Music returns to MSU June 8-14
The Dakota Chamber Music will celebrate its 19th season June 8-14. The institute brings professional artists together with talented and motivated students and adults for intensive performance and study. Minot State University's resident trio, Luminus, forms the core of the 2015 DCM faculty. Erik Anderson, cello, Dianna Anderson, piano, and Jon Rumney, violin, comprise the trio.
"When Jon and Lynne Rumney founded DCM, the intent was to provide an opportunity of the highest quality for musicians of all ages to gather for a week of intense study and musical fellowship. Each year, it is a thrill to see that dream come alive once again in our halls and on our stage," said Erik Anderson, professor of music.
Generally, chamber music includes any music performed by a small number of performers with one performer to a part. The word "chamber" signifies that the music can be performed in a small room, often in a private salon with an intimate atmosphere.
Guest musicians include Adam Estes, University of Mississippi assistant professor of woodwinds and founding member of Assembly Quartet; Jim Fusik, MSU assistant professor of woodwinds; Sean Neukom, violin, an MSU alumnus now working professionally in Pittsburgh; Tim Nelson, viola, a Juilliard graduate who teaches music in Fargo; and Andrew Smith, University of Nevada-Las Vegas associate professor of music, who is a cellist of UNLV's The Cerberus Trio and principal cellist of the Las Vegas Philharmonic.
Each year, DCM draws 40-50 musicians, high school through adult, who play strings, piano, winds and brass. It is by audition only and is coordinated by the MSU Division of Music. Attendees rehearse for four hours daily with the faculty and participate in master classes and other group presentations. Public events include the Faculty Concert on June 11 in Ann Nicole Nelson Hall at 7:30 p.m., a Student Concert in the Gordon B. Olson Library on June 12 at 11 a.m., the College and
Adult Workshop Concert on June 13 in Nelson Hall at 7:30 p.m. and the DCM Adult Retreat/High School Program Concert on June 14 in Nelson Hall at 1 p.m. The latter three are free; the Faculty Concert is $10 for adults and $5 for students, with tickets available at the door.
To learn more about DCM, go to http://www.minotstateu.edu/dcm/. For questions, contact Erik Anderson at 858-3576 or erik.anderson@minotstateu.edu.



---