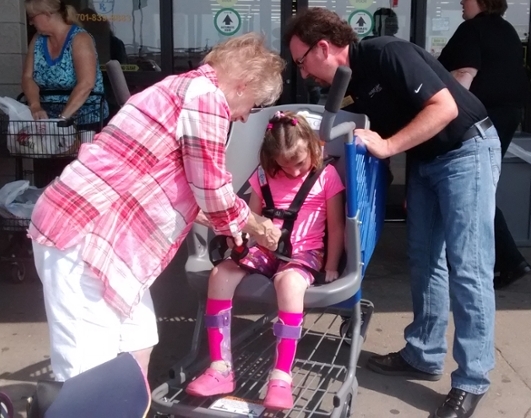 University Communications
Caroline's Carts have arrived at all Minot's Marketplace Food stores
In collaboration, the North Dakota Center for Persons with Disabilities, a Center of Excellence at Minot State University, and Marketplace Foods have made Caroline's Carts available at each Marketplace Foods location in Minot.
Caroline's Carts were created by parents who realized their daughter would eventually outgrow a typical shopping cart. Their mission was to make Caroline's Carts available to retailers everywhere to enable individuals with special needs to participate in mainstream society through the common activity of grocery shopping with their family.
Caroline's Carts permits parents and caregivers to do grocery shopping without having the impossible task of maneuvering a wheelchair and a traditional grocery cart at the same time.
Dianne Bossert, Minot Infant Development Program project director, approached Craig Heupel, South Broadway Marketplace Food manager, about purchasing a cart for his store. Recognizing the community need, Heupel was supportive and instrumental in securing a cart for each of the five Marketplace Foods stores in Minot. In addition, Heupel promised that Marketplace Foods personnel will meet families at their vehicles with Caroline's Carts so that families will not have to transfer individuals from their vehicles, into wheelchairs and then into the carts. After receiving a call, Marketplace Food personnel will meet a family at their vehicle. Business cards with the telephone numbers of Minot's five Marketplace Foods locations will be printed and available at Marketplace Food stores. To learn more about Caroline's Cart, go to http://www.carolinescart.com/. 
---