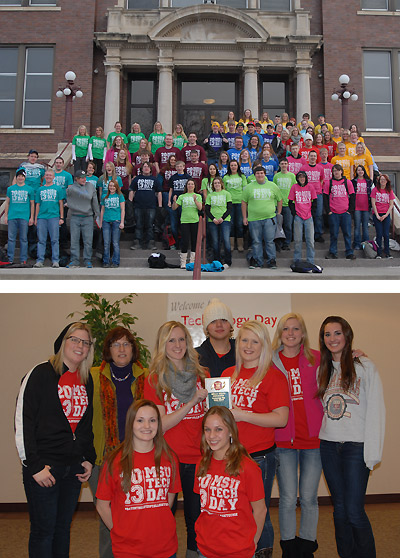 Sweepstakes Team Award: Underwood High School
University Communications
Technology Day Winners
On Wednesday Feb. 5 at Minot State University, high school students competed at the Department of Business Information Technology's 16th annual Technology Day. Underwood once again took first place.
Accounting: 
3rd place—Hannah Stockie, Surrey
2nd place—Colton Gandrud, Bowbells
1st place—Tyrel Mollerud, Berthold

Business Law:
3rd place—Wyatt Clark, Powers Lake
2nd place—Annie Bachmeier, Surrey
1st place— Anne Hefta, Underwood

Desktop Publishing:  
3rd place—Samantha Titus, Powers Lake
2nd place—Levi Kinn, Max
1st place—Lindsey Duben, Underwood

Document Production: 
3rd place—Kinzi Grubb, Powers Lake
2nd place—Jasmin Johnson, Berthold
1st place—Emily Eichhorst, Underwood


Introduction to Business: 
3rd place—Alana Connor, Kenmare
2nd place—Lane Banister, Surrey
1st place— Beaudon Olson, Underwood

Spreadsheet:  
3rd place—Zach Beard, Bowbells
2nd place—Sydney Pabian, Berthold
1st place—Jonathan Rosencrans, Powers Lake

Presentation Software Duo:  
3rd place—Reid Groninger and Otto Kinn, Max
2nd place—Shirley Yang and Xandria Walters, Kenmare
1st place—Leah Runyan and Mikhaila Hynson, Des-Lacs Burlington

Sweepstakes Team Award:  Underwood High School
Nita Anderson (Instructor)
Charley Auck
Anne Hefta
Lindsey Duben
Emily Eichhorst
Beaudon Olson
Madison Holm
Krista Blotske
Brianne Halstead

Minot State Business Education Students who planned the event:  Nikki Holmen, Alyssa Landry, Mallory Brodal, Courtney Albertson, Liva Rovig, Nicole Sundhagen, Michael DeLorme.

Mrs. Jan Repnow, business teacher education instructor, coordinated the event.
---