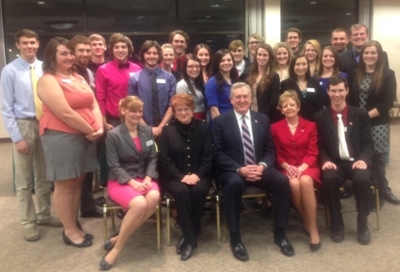 University Communications
MSU SGA Hosted NDSA
Minot State University's Student Government Association hosted the North Dakota Student Association's bimonthly meeting Feb. 21-22. NDSA is a representative body of the student governments within the 11 North Dakota University System institutions. NDSA serves as a voice for over 48,000 students in North Dakota.
Guest speakers were David Fuller, MSU president, Sen. Karen Krebsbach, legislator from Minot's District 40, and Tanya Spilovoy, NDUS director or distance education and state authorization.
For several years, MSU has hosted its NDSA's bimonthly meeting at Bismarck State College because of inadequate hotel space in Minot. NDSA meetings rotate among the NDUS schools.
---