University Communications
Mrozik Appointed College of Business dean at Minot State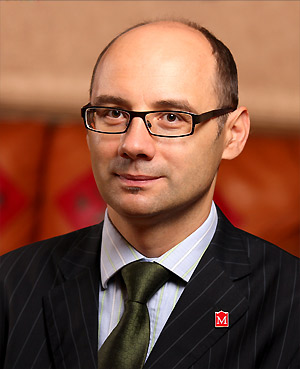 Jacek Mrozik has accepted the position as dean of Minot State University's College of Business.  He will continue to serve as interim through this contract period and assume full appointment as dean beginning July 1.
"I believe Dr. Mrozik brings the skills needed to the position to lead the College of Business, including his willingness to put the needs of the students, faculty and staff first, and to work collaboratively with all of us on moving the college forward," said Lenore Koczon, vice president for academic affairs.
"The College of Business has the tradition of providing our students with quality education and is concerned about meeting the present and future educational needs of North Dakota residents," Mrozik said. "I believe MSU and the College of Business have a positive future, and I am happy to be a part of it."
Mrozik joined MSU as an assistant professor of business administration in 2011, after being a visiting professor at Clemson University, S.C. Before entering academia, he worked in the telecom industry for 19 years as a marketing manager. He possesses a bachelor's degree from the University of Manchester, United Kingdom, a master's degree from Clemson University and a doctorate from the University of Warsaw, Poland.
For questions, contact Koczon at lenore.koczon@minotstateu.edu or Mrozik at jacek.mrozik@minotstateu.edu.
---